Russian tanker makes steady progress towards Nome, Alaska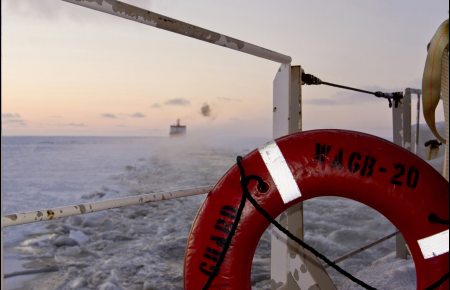 On Thursday the Russian-flagged fuel tanker Renda and the ice-breaking U.S. Coast Guard cutter Healy that's escorting it made another strong surge north toward Nome.
"Baby steps are over. We are all now out of our 'pampers' (Russian word for diapers) as Healy has found her groove with Renda trotting mindfully along behind," said Capt. Peter Garay, the Alaska Marine Pilot who is on board the fuel ship.
On Thursday, the two vessels keep a steady course toward Nome, closing the gap that at sunrise separated them by about 70 miles from shore to one approximately 10-13 miles from the fuel-strapped city.
Garay described an upbeat mood among the crews, who shared a song together via VHF radio, broadcasting to each other a Johnny Horton tune: "Way up North, north to Alaska. Way up North, north to Alaska. North to Alaska, I'm going north, the rush is on."
Nome sighted
Late Thursday, Garay reported being able to see the lights of Nome, and Nome residents watching from beachfront homes were able to see the ships' lights from their windows, described as looking like balls of fire on the water.
While the ships are pulling ever closer to their goal, they weren't expected to arrive at their final parking spot until Friday. The final maneuvers pulling in close to Nome will be performed at daylight, said Stacey Smith, a program manager for Vitus Marine, the company that hired the Renda on behalf of a fuel buyer in Nome.
Ice closer to Nome is expected to get thicker and could more challenging to navigate, and difficult ice conditions have brought the voyage a halt at various times throughout the journey. For this reason, Vitus Marine was hesitant Thursday night to offer a decisive arrival time.
Crews also need rest, and the pattern thus far has been to drive during the day, rest overnight, regroup and return to breaking ice after dawn.
Once the Renda and the Healy get to Nome, the fuel will be offloaded through a hose to shore. The hoses must be put in place and begin pumping fuel during daylight, but once they are flowing can run around the clock until the load is removed, a process projected to take about 36 hours.
The Renda, traveling to Alaska from the Russian far east, has been on the job for weeks. Healy's crew has been deployed for neally 8 months, delaying long awaited reunions with their families during the holidays to break trail for the Russian fuel tanker through the Bering Sea's winter ice pack.
With progress gained and a former Healy commander and retired coast guard admiral now on board as a consultant, the ships' new mottos reflect the increasing momentum of the mood of the crews, said Garay: "Bring it on!" and "Come on Renda!"
Contact Jill Burke at jill(at)alaskadispatch.com