Broadband Internet forges into rural Alaska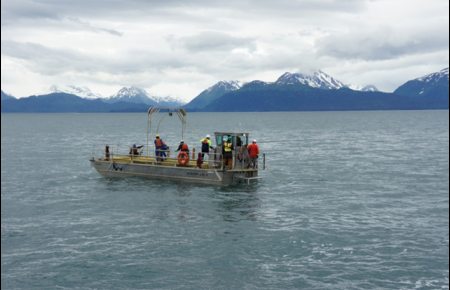 Thousands of remote Alaskans will soon be able to enjoy high-speed Internet thanks to an $88 million project — funded partly with a federal stimulus grant — that laid hundreds of miles of fiber-optic cable across frozen tundra and an ice-locked river before using Chinook helicopters and mountaintop towers to finish the job.
The new broadband network — set to come online in coming days — will link one of the nation's most remote regions with big cities in Alaska and the rest of the world, an Alaska telecommunications company announced on Thursday.
Southwest Alaska has long relied on satellites for telecommunications, a system that created delays as signals ricocheted tens of thousands of miles between space and earth. The long distances caused noticeable pauses in everything from Internet connections to videoconferences. Even phone calls were frustrating, with talkers waiting for echoes or stretches of silence to pass before continuing to speak. It was like communicating by trucker CB.
9,000 homes, 750 businesses affected
One of the network's most important benefits will be faster videoconferencing for long-distance education and training. Hospitals and clinics will be able transmit complex medical records digitally and instantly, instead of waiting to move that information overnight when bandwidth opened up.
The old satellite network will remain in place as the new network, dubbed TERRA-Southwest and built by United Utilities Inc., comes on line. But the old system will serve only as a backup if the new broadband system has trouble, said General Communications Inc., parent company of UUI, in a written statement. The new network should be available in about two weeks to some 9,000 homes and some 750 businesses, nonprofits and community groups in the Bethel and Dillingham regions.
United Utilities is currently testing the system with the Yukon-Kuskokwim Health Corp., a tribally run health-care system that operates a central hospital in Bethel and dozens of village clinics in a chunk of Southwest Alaska.
In addition to the long fiber-optic cable — laid between Homer at the tip of the Kenai Peninsula and the Bristol Bay village of Levelock — the new network will rely on a series of microwave sites to deliver a signal to 65 villages in the Bristol Bay and Yukon-Kuskokwim regions.
Hardware installation was a monumental task, GCI spokesman David Morris said.
Crews ran the cable in trenches carved into the frozen tundra in the Bristol Bay region, an effort possible only in winter to protect sensitive plants. When they needed to cross the Kvichak River, they roared up a chainsaw and slashed holes through thick ice so a diver in a dry-suit could thread 1,500 feet of line through the water.
Chinook helicopters from Oregon also sling-loaded equipment atop four mountains to install 80-foot-high microwave towers. Nine other microwave sites in villages complete the network.
Will the faster service mean higher prices for landline and cellular calls, Internet, and teleconferencing services?
Morris said that GCI should have that answer in about two weeks.
This is only a test
On Thursday morning, an inaugural test — a call between Alaska Gov. Sean Parnell in Juneau and Gene Peltola, chief executive of the Yukon-Kuskokwim hospital — went well, said Morris. It was just like watching TV, with no technical delays between the talkers, Morris said. The Bethel-based health care organization will be one of the biggest beneficiaries of the cable-based network.
"It will allow us to continue expanding the use of tele-health applications including video conferencing with doctors, tele-radiology, tele-psychology, implementing new electronic health record applications and much more," Peltola said in the written statement.
Dan Winkelman, vice president at the rural hospital system, said the new network will greatly speed up medical evaluations. For example, X-rays sent to radiologists in Ohio and Minnesota were often sent overnight when bandwidth opened up. Now, they can be sent immediately.
Teleconferences that were useful for training new professionals went very poorly or didn't work at all under on the old system, because messages were delayed seven-tenths of a second, he said.
"What that caused on your screen was stoppages, pixelation, jittery images. Sometimes it won't even work," he said. "I've often tried holding webinars, and you just can't do it." Broadband should open up a whole new level of efficiency, he said.
GCI president Ron Duncan said the next phase of the project will expand the system into Northwest Alaska homes and businesses.
"We plan to push on to Unalakleet this year," he said, speaking of the northwest Alaskan community.
Contact Alex DeMarban at alex(at)alaskadispatch.com