Rovaniemi is Finland's snowiest place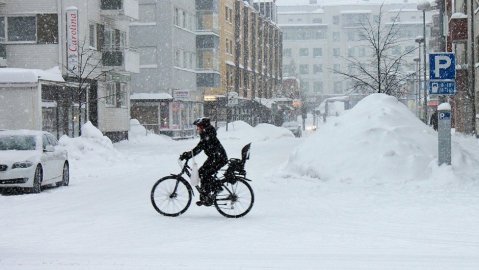 Rovaniemi airport retains the highest snow level in Finland despite losing a few centimetres over the weekend due to wind and condensation. On Monday the snow was measured at 68 centimetres, down from 71 last week.
Rovaniemi, the capital of Finnish Lapland, straddles the Arctic Circle, more than 800km north of Helsinki.
Meanwhile, another airport in Lapland, Kittilä, reported 66 centimetres of snow. In other parts of Lapland the snow cover is less than 60cm.
Finnish Lapland's lowest snow cover, just 38cm, was at Näkkälä in Enontekiö, some 300km due north of Rovaniemi.
More snow was falling in Rovaniemi on Monday afternoon as an area of precipitation moved over it from the south-west, moving off soon toward easternmost Lapland.
Meanwhile on most of the south coast, there was less than 10cm of snow after several days of mild weather last week thawed snow that had accumulated since the beginning of January.