Alaska wallows in wealth while recession-riddled states suffer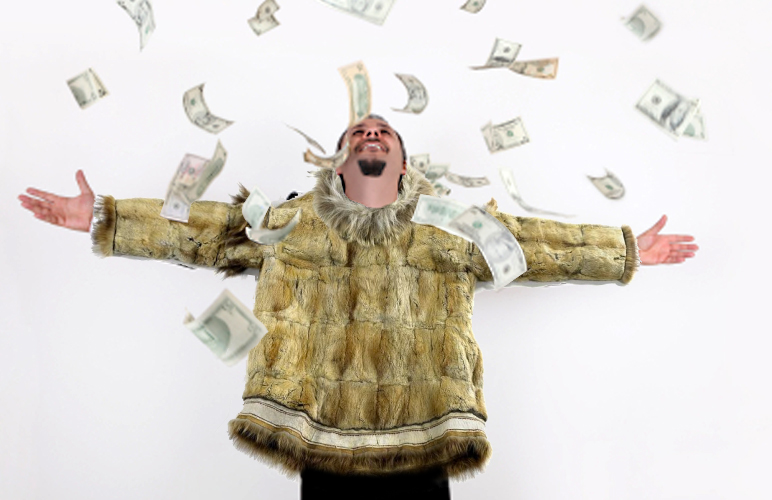 Alaskans, consider yourselves loaded.
While other states struggle to escape the clutches of the Great Recession, our money-making assets rake in dough hand over fist. But what are all those resources doing for the average Alaskan?
Alaska's net worth in state-owned enterprises and financial investments totaled $66 billion in 2011 — a big leap from the year before thanks largely to rebounding markets that padded investment portfolios like the $40 billion Alaska Permanent Fund, says an annual review by Commonwealth North.
Put another way, the state-owned wealth comes to $93,000 for every man, woman and child in Alaska, or about $279,000 for the average family of three. And that figure doesn't count the mind-boggling reserves of oil, gas, gold and other treasures waiting to be tapped.
So what's it all good for?
Some of the assets create jobs and infrastructure. And the wealth reaches every Alaskan in another important way: the Permanent Fund Dividend check — worth $1,174 last year. The annual handout means Alaska is the only state whose rich-poor gap hasn't widened, according to a state economist.
Also, Alaska has more jobs than ever before, unlike all other states but North Dakota. And the 49th state did well on a new assessment of personal financial security, finishing sixth in the nation, according to the Corporation for Enterprise Development, a Washington, D.C.-based think tank.
But everything isn't rosy. The average individual income in Alaska — $44,205 last year — grew more slowly than the rest of the nation, reported Commonwealth North, a non-partisan civic group. It's now only about $4,000 higher than the national average.
The Commonwealth North review, based on a state report, could play into the battle over lowering Alaska's progressive oil tax, and whether the state is stifling development — and hurting the economy in the long-run — by overtaxing oil companies.
The review notes one of Alaska's major challenges is countering dwindling oil flow in the trans-Alaska pipeline, and Commonwealth North believes the state's progressive tax should be reduced and maybe capped.
Jim Egan, executive director for Commonwealth North, wouldn't comment on the review's political ramifications. The group released the report simply to let Alaskans know how the state's wealth managers are doing.
The review is like a corporate report to shareholders, he said. Alaska, with limited holdings of state land, is unique in the nation because it developed as an owner-state, creating agencies and investments to provide an economic return.
"Sometimes we think of it as Alaska Inc.," said Egan. "If Alaska was a company and Alaskans were the shareholders, then what would need to be communicated to them from the state to show how each asset is managed?"
Evaluating the state's wealth
The annual review is a good starting point that helps people grasp the state's wealth, said Scott Goldsmith, an economist with the Institute of Social and Economic Research at the University of Alaska Anchorage.
But it's only part of a much larger picture. It doesn't address the true size of the state's wealth because it doesn't include the "natural resource endowment," such as undeveloped mines and oil and gas reserves collectively worth trillions of dollars.
"To really get a sense of the size of our portfolio, we need to measure that," Goldsmith said.
It's also worth asking if the state should play a larger role in development, he said. Should Alaska remain passive, sitting back and collecting royalties like it's done more than 30 years with Prudhoe Bay, the nation's largest oil field?
Or should it be more active, like Norway, which in two decades has managed to amass a $560 billion wealth fund that dwarfs Alaska's Permanent Fund? Norway launched its own oilfield companies and works closely with private industry, giving it a solid understanding of its own wealth.
"The Norwegians are also an owner state," Goldsmith said. "They don't just let the oil industry do all the development. They become an active partner in that development, so they know more about their portfolio than we do."
So what is Alaska's larger value? For starters, Alaska's worth jumps substantially when you add in North Slope's proven reserves of 7 billion barrels of oil. The state takes in roughly $39 for every $100 barrel, state officials said. At that rate, proven North Slope oil reserves boost state assets to $339 billion, or about $477,000 per person.
And that doesn't include world-class stores of other resources, such as the 236 trillion cubic feet of conventional natural gas on the North Slope, according to the U.S. Geological Survey. Or the Pebble prospect, a gold, copper and molybdenum cache valued at hundreds of billions of dollars and just one of several huge mineral prospects in Alaska.
One thing's for sure. The review gets people thinking. The big question: Just what should Alaska do with all this wealth?
Other figures presented by Commonwealth North:
•The Permanent Fund's market value is $40.1 billion, a 20 percent increase from $33.3 billion on June 30 last year. The fund is the 18th largest sovereign wealth fund in the world, and the largest in the U.S.
•The Constitutional Budget Reserve Fund, a state savings account, totaled $10.3 billion, growing more than 10 percent from 2010. If this were a sovereign wealth fund, it would rank as the second-largest in the U.S., behind the $24 billion Texas Permanent School Fund.
•The University of Alaska endowment fund rose 9 percent to $127 million, up from $116.4 million.
•The Alaska Mental Health Trust Authority net assets rose to $502 million, up 17 percent from $427.5 million in 2010.
•State oil leases fell to 1,446, down from 1,499 in 2010. Revenues from rentals and royalties rose to $2.7 billion, up from from $2.2 billion in 2010.
•Fisheries landing and business tax revenue rose to $69 million from $59 million in 2010.
•The Alaska Marine Highway, which operates ferries in remote areas, lost $110 million in operations, the biggest loss in five years.
•The Alaska Energy Authority, which helps support the state's utilities, lost $71 million in operations. That's up 38 percent from 2010, but its investment and revenue share gained $71 million.
•Alaska's two international airports lost $24 million, up from $6.3 million in 2010.

Contact Alex DeMarban at alex(at)alaskadispatch.com
For more stories from Alaska Dispatch, click here.