Grueling Iron Dog snowmachine race under way in Alaska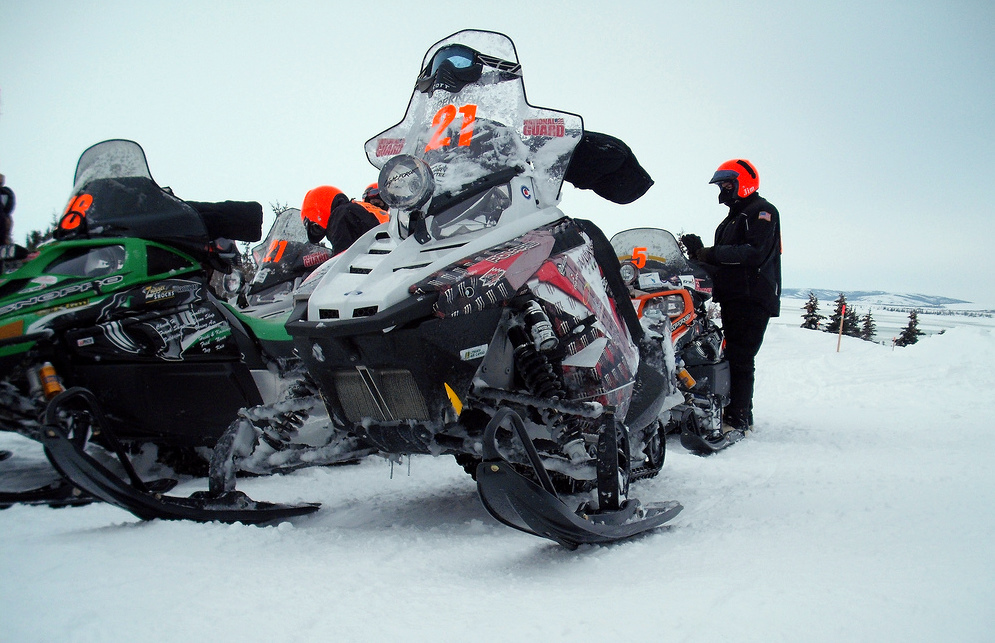 Two weeks ago, the world's longest, toughest snowmachine race was looking like a bone-numbing, face-freezing charge north into 50-degrees-below zero global cooling.
Now the racers who left Big Lake Sunday on a 2,000-mile jaunt northwest to Nome, in northwest Alaska, before backtracking to Fairbanks have new worries — mushy trails and open water triggered by unseasonably warm temperatures.
The high in Skwentna, the first checkpoint on the trail north, hit 33 degrees on Friday.
Two weeks ago, it was minus 20, and some wondered if the brutal cold snap that had settled over Alaska would ever end.
The National Weather service said this January was one of the coldest in Alaska history. Thermometers bottomed out at 65 degrees below zero at Galena, another Iron Dog checkpoint, on the Yukon River.
More than a few racers were shivering and thinking, "Lordy." Racing at 60 below is brutal for even the hardiest and most experienced competitors. Now, thankfully, the Galena temperature is in the 20s — the plus 20s — and the forecast through race week calls for mild temperatures.
Alaska weather, go figure.
Unfortunately, warm doesn't necessarily translate into good for a snowmachine race. Now the Iron Dog concern is warmth south of the Alaska Range. Colton Perrin at Perrin's Rainy Pass Lodge at Puntilla Lake reported 27 degrees there Friday evening, but it had been warmer. He'd just ridden up the Iditarod Trail from Big Lake on a snowmachine.
"The trail wasn't too bad," he said, but he didn't expect that to last.
"Probably the first five (teams) are going to tear it up pretty good," he said. "It was 35 degrees at the (Happy River) steps."
When the 6- to 7-feet of snow now burying the Iditarod Trail north of Skwentna goes soft, Iron Dog strategy enters the picture. In these conditions, there is a significant advantage to leading the race into the Shell Hills and onto the Alaska Range. The faster the leaders climb through this country, the more the churning tracks of their sleds and the inevitable, airborne launches off drifts tear up the trail left behind.
Bad trail, in turn, slows and beats up the competition. It might contribute to a crash that knocks a competitor's sled out or causes an injury that forces someone to quit. But even if none of that happens, tough trail takes a toll on riders, especially the older ones.
Seeking win No. 8
Scott Davis, a seven-time champ, is 54 years old. Sore and beaten after last year's race, he talked of retiring. But he's back, looking for another win that would make him the winningest racer in Iron Dog history. He's tied now with John Faeo, who is about Davis's age but retired years ago. Davis this year teams with Todd Palin, with whom he won in 2007. Palin is younger than Davis, but they're both long in the tooth for a race that pounds entrants.
The good news for the old guys is that they're starting only 10 teams back, and there are some slower teams in front. The bad news is that former Iron Dog champs Dusty Van Meter from Kasilof and Marc McKenna from Anchorage lead the race out of Big Lake, and Davis-Palin have a couple teams of young guns not far behind.
The racers compete in teams for safety. If someone crashes badly in the wilderness — as has happened in past races — the partner on the second sled is there to provide first aid and organize a rescue, which has also happened. The Iron Dog is not only long and demanding; it's also dangerous. And a challenge hard to resist for serious sledheads.
New year, new partners
Because of the always-shifting nature of Iron Dog teams, this year's race has defending champs, but not a defending team. Chris Olds from Eagle River and Tyler Huntington from Fairbanks won last year and then split up. Olds is running the 2012 race with Mike Morgan from Fairbanks. Huntington has teamed with Tre West from Nome. Both teams will be aboard Polaris machines.
Olds and Huntington won on Polaris sleds last year. Palin and then-teammate Eric Quam were second on Arctic Cats. Quam is not racing this year. Palin and Davis, who finished third with his son last year, are both back on Arctic Cats. There is some cachet to be gained for the companies that produce the winning sleds, and several manufacturers offer bonus money — as well as sometimes providing equipment – to racers on their sleds.
About half the field will be riding Polaris snowmobiles in 2012. Seven teams are on Arctic Cats, the same for Ski-doos. Only one team will ride Yamahas. All will have to deal with what could be a wet, sloppy trail.
"There's a lot of open water in Hell's Gate," Perrin said. Hell's Gate is the pass the race uses to jump through the Alaska Range between Rainy Pass and the Kuskokwim River drainage on the way to McGrath, but it isn't the only place racers are likely to encounter open water. Overflow on Big Lake is still threatening to make the race start a wet and wild adventure.
Soggy start chute?
The start area was flooded earlier in the week after an ice fisherman drilled holes in a large clearing plowed by Iron Dog. The weight of snow and snow-moving equipment on the ice around that area bent the surface of the ice, forcing water up through the holes. The latest report from Iron Dog was that most of the water "is presently isolated just on our start-line race chute. That area has been marked off and is healing slowly, setting up with an inch or two of new ice."
An inch or two of ice is not likely to last long under the studded tracks of race sleds bounding away from the start line, but high speed snowmachines are capable of flying over open water to get to snow. Water was not expected to hamper the start. And Iron Dog officials were discounting reports from the Mat-Su Borough Emergency Services that the lake ice itself was unsafe.
"There have been misleading reports about ice conditions on Big Lake," the organization said.
The borough report said thin ice on Big Lake was "causing concern." Fire Chief Bill Gamble warned that an "ice drop-off occurs in the areas off to the side where the heavier, wet snow is."
Race organizers reassured spectators that the 2 feet of ice at the start is plenty, but they noted that anyone driving a car or truck onto the lake has to realize that "as always, it is park at your own risk on Big Lake." Driving on unplowed areas should be avoided.
Contact Craig Medred at craig(at)alaskadispatch.com
For more stories from Alaska Dispatch, click here.