Considerable avalanche risk in Finnish Lapland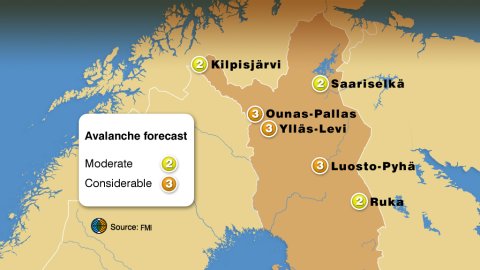 Recent snowfall has caused chaos in the urban centres of South Finland, but it should be a boon for Northern ski resorts. Bumper snowfalls do, however, require vigilance to keep skiers safe from avalanches.
Ski patrols in Lapland, Finland's northernmost province, are having an especially busy time this week. One of their tasks is to put up avalanche warnings.
Experts are checking the snow to measure the avalanche risk.
The snow is so deep in some places that a one-and-a-half metre long measuring stick does not hit the ground.
In Ylläs the warning level is three, meaning there is a considerable risk of dislodging large amounts of snow.
The resort is not alone. The Meteorological Institute warns of a considerable avalanche risk at three Lapland ski centres, and a moderate risk at three others.
Lauri Ylimys of the ski patrol says that the avalanche risk has not been this high for more than ten years. In addition to skiers, snowshoe-walkers should take care when in the area.
For more news from YLE Finland, click here.