New report reveals vast stores of Alaska shale oil and gas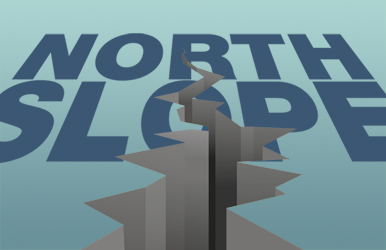 Calling Alaska's North Slope an "unexplored frontier" for shale oil and gas — the controversial resource that's sparked an energy boom in parts of the Lower 48 — a first-ever federal assessment says a massive bounty of natural gas and oil can be unlocked from the region's underground rocks.
Using new technology, up to 80 trillion cubic feet of natural gas could be produced from North Slope shale, according to a fact sheet of the U.S. Geological Survey report, which has not yet been released.
That's enough to supply the natural-gas needs of the entire U.S. for three years at 2010 consumption rates. It's also more than double the conventional natural gas reserves said to exist on the North Slope, the largest such resource in the U.S.
Also, the USGS now estimates the slope holds up to 2 billion barrels of shale oil. That would fill the trans-Alaska-pipeline for about a decade at current flow-rates of about 600,000 barrels a day.
The price of producing shale resources
High development costs and limited infrastructure have prevented companies from producing shale resources in Alaska, the report notes. But Great Bear Petroleum and Halliburton are exploring for shale oil this winter, and Royale Energy Inc. plans to begin exploring next winter, thanks in part to the state's generous exploration tax credits.
The fracking process used to extract oil and gas — injecting sand, chemicals and water to free the petroleum from underground rocks — has sparked concerns over contaminated groundwater in the crowded Lower 48. But the process might be less controversial on Alaska's sparsely populated North Slope.
One advantage of shale-oil development in Alaska is that, so far, exploration is happening in unpopulated areas. That has its benefits, because it can take pressure off development in other areas, including ecologically sensitive sites, such as the Teshukpuk Lake region that supports breeding birds from around the world, said Lois Epstein, a licensed engineer and the Arctic program director for The Wilderness Society.
Another positive feature of shale development in Alaska: It stands out from a state such as Pennsylvania because there are fewer oil companies to monitor on the North Slope and because Alaska, with its long drilling history in recent decades, has well-established rules overseeing oil development, said Epstein.
"A lot of issues associated with fracking are related to bad well construction, cementing, and sloppy practices on the surface," she said.
New rules needed
Not that everything is perfect, she said. Enforcement efforts can improve. And the state needs new rules, including that companies disclose chemicals used in the fracking process.
"The bottom line is we need to make some upgrades to our requirements," she said.
Concerns over fracking in Alaska could also jump sharply if one of the companies is successful and new exploration companies rush north, straining state regulators or bringing industrial development to untouched areas, she said.
Pamela Miller of Alaska Community Action on Toxics said that group plans to increase its focus on fracking. Contaminated groundwater has the potential to harm caribou, fish or other resources Alaska Natives in the region rely on for food.
"The developments may be far removed from where people live but these are traditional lands and waters that sustain traditional ways of life that are very crucial to many people living in Alaska," she said.
As for the new eye-popping shale-gas estimate, that resource may never be developed without a massive gasline from the North Slope. And who knows if that will ever happen? Alaska leaders and oil companies have already failed — for more than three decades — to tap into a much more accessible resource, the Slope's proven conventional reserves of 35 trillion cubic feet.
Sean Parnell is the latest Alaska governor to push for a massive pipeline to move that gas. With shale-gas production up sharply in the Lower 48, he supports a gas-line that would run from the North Slope south to somewhere in Southcentral Alaska, where the natural gas would be liquefied and shipped on tankers, perhaps to Asian markets where gas prices are currently high. Even that project, however, would require billions of dollars and the support of Alaska's three largest oil companies — Exxon Mobil Corp, BP and ConocoPhillips — all of which hold leases to develop Alaska's conventional gas reserves.
Maybe there's one silver lining in the shale-gas estimate. With so much potential gas out there, perhaps it will reduce the importance of Point Thomson, a North Slope field said to be critical for gasline development. Holding about a quarter of the Slope's known natural gas reserves, the field has sat fallow for decades, much to the state's chagrin, in part because the field's highly pressurized gas is said to be difficult to recover. The dispute between Exxon and the state, now in state Supreme Court, may not be settled for years.
The USGS report will be available in the coming days, said Alex Demas, a spokesman with the agency.
The fact sheet with a map provides some details about that report, which is based on three source rocks on the North Slope – the Triassic Shublik Formation, the lower part of the Jurassic-Lower Cretaceous Kingak Shale, and the Cretaceous pebble shale unit-Hue Shale.
USGS notes the oil and gas found in North Slope reservoirs such as the massive Prudhoe Bay field, the largest oil field in North America, migrated from those formations. But some of the oil and gas remained locked in the original "source rocks," the shale formations that can now be tapped thanks to new technology.
The agency notes that it worked with the state Department of Natural Resources, the University of Alaska Fairbanks, and other experts to produce the report.
Click here for the press release.
For more stories from Alaska dispatch, click here.