US coast guard to patrol Arctic Ocean, conduct oil-spill test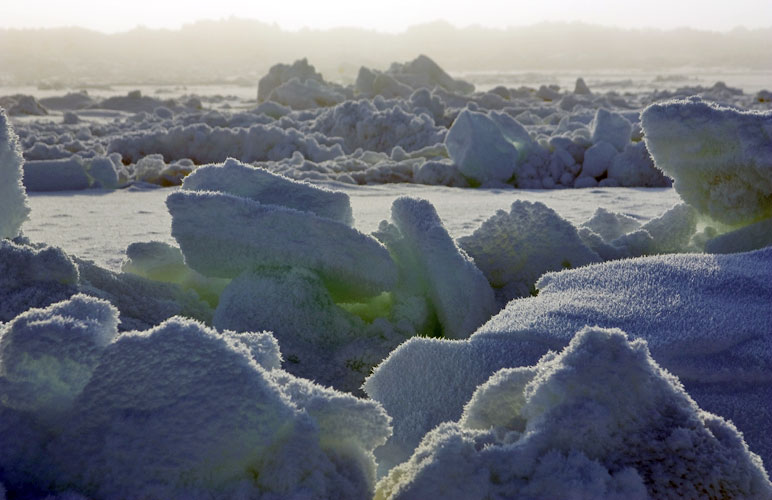 The U.S. Coast Guard plans to muscle up its Arctic presence this summer, patrolling for the first time in a new marine frontier where the ice is melting and ocean-going ship traffic is on the rise.
Unprecedented efforts set to take place include a Coast Guard ice-rescue team from the Great Lakes working with rural Alaska communities, two large enforcement vessels shepherding the Arctic Ocean, and the Coast Guard's first ever, oil-spill response test in the Arctic, said Chief Petty Officer Kip Wadlow from Juneau.
"It's about protecting lives at seas, and ensuring that we have a presence up there just in case something goes wrong," he said.
Drilling plans put spotlight on Arctic
The Coast Guard has not stationed assets in the Arctic during its 150-year presence in Alaska, Coast Guard Commandant Adm. Robert J. Papp Jr. told Military.com. A driving factor is Shell Oil Co.'s drilling plans in the Beaufort and Chukchi seas off Alaska's coast. Papp said the company plans to bring 33 ships and 500 people to the North Slope, with some 250 people shuttled weekly in helicopters to drilling platforms.
Shell has said it hopes to drill up to three wells each of the next two summers in the Chukchi and up to two wells each of those summers in the Beaufort, and is currently seeking regulatory approval for its plans.
Shell's efforts could increase Coast Guard work in pollution and environmental response, as well as in search and rescue, Papp said, according to the article.
Wadlow told the Alaska Dispatch that the Coast Guard's Alaska district calls its summer plans "Arctic Shield 2012." Even if Shell is not permitted to drill this summer — the company plans have been delayed in recent summers — the Coast Guard is still planning a large Arctic role, Wadlow said.
Working with Arctic communities
Plans could change, but at the moment the Coast Guard is looking at stationing two Jayhawk helicopters and support crews in Barrow and working with local communities to increase its Arctic knowledge of such things as ocean hazards, shorelines and ice rescues in the Arctic, he said.
Starting in April, ice rescue experts from the Coast Guard's Ninth District, which performs the majority of the agency's Great Lakes region ice rescues, will head north to teach and learn techniques from emergency responders in Nome, Kotzebue and Barrow as part of a community outreach effort.
It will be a "knowledge sharing" process that could benefit both sides, he said.
"It's important for the Coast Guard that we are out there meeting with local tribal governments because when it comes to local expertise, these are the people with that expertise," he said.
Patrolling the Chukchi
The plan calls for two enforcement cutters patrolling the Chuckchi in separate shifts, where they'll monitor ships coming through the Bering Strait, and through the Beaufort Sea over the North Slope. Ships carrying Asian cargo are increasingly traveling above Canada to deliver freight to European markets, and taking advantage of longer ice-free periods in the summer, he said.
The cutters are expected to be the 282-foot Alex Haley, making the trip from its homeport in Kodiak, and the 420-foot Bertholf, traveling from its homeport in Alameda, Calif. Because the Arctic has no deepwater port that can handle the big ships, they'll have to periodically transit to Dutch Harbor to refuel and resupply.
"It will be a multi-day transit," to reach their patrol grounds in the Arctic Ocean, he said.
Spill test planned
The Coast Guard's summertime plans also call for an oil-spill response test conducted by a 225-foot buoy tender in the Arctic this summer, he said. The ship will deploy clean-up equipment similar to that which helped mop up oil in BP's 2010 Gulf of Mexico disaster: inflated stretches of boom that act like floating gates to corral the imaginary oil, and skimmers that suck the product onto the ships for eventual disposal.
Environmental groups opposed to Shell's drilling plans have consistently argued that a large oil spill can't be cleaned from icy waters. Federal regulators have called for shortened drilling seasons to stop Shell's drilling toward late September, before sea-ice forms.
Wadlow did not know when the Coast Guard planned to conduct its test. He said the Coast Guard would publicize information about the test by distributing videos and photos.
"We want to highlight what the Coast Guard is doing up there," he said.
The agency has visited the Arctic more often in recent years. It flew reporters on one of its regular Arctic Ocean overflights last year and allowed them to witness a tabletop drill in Barrow that included Coast Guard officials working with local emergency responders on an imaginary rescue of tourists aboard an eco-adventure ship.
This summer's work will help inform the Coast Guard about what kind of future role it should play in the Arctic, including a suitable location for a deepwater port, Wadlow said.
Contact Alex DeMarban at alex(at)alaskadispatch.com
For more stories from Alaska Dispatch, click here.