Inuit women's group upset over Health Canada grant cut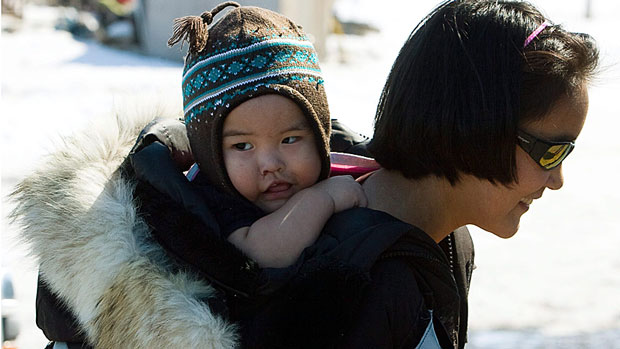 A group dedicated to improving health outcomes for Canada's Inuit says it won't be able to carry on with much of its work because of a loss of funding from Health Canada.
Pauktuutit Inuit Women of Canada has been working on health prevention and promotion projects since 1984, and for years has received financial support from Health Canada's First Nations and Inuit Health Branch. Since 2007, the contributions have amounted to about $800,000 per year.
But funding for this year isn't being granted, the organization said Monday in a news release, because of reductions announced in the federal budget.
Projects were to focus on maternal and newborn care, HIV research, midwifery and fetal alcohol spectrum disorder.
There isn't enough money to move forward on the projects, which were developed in co-operation with the federal and territorial governments and regional health boards, according to the group.
"Pauktuutit calls upon [Prime Minister Stephen Harper] and Minister of Health [Leona Aglukkaq] to restore these very modest resources that have produced demonstrated positive outcomes," the group's statement said.
The organization's president, Elisapee Sheutiapik, said in an interview with CBC News that she is surprised and frustrated about the news.
"We deliver projects that are from the grassroots, using our own language," she said, adding that they are very much appreciated by community health workers.
Sheutiapik said her group met with Aglukkaq Monday and will meet again to try to determine if the organization can get funding support from other government programs.
"That gave me a bit of hope," she said.
Pauktuuit says Inuit communities have high rates of sexually transmitted diseases, addiction and alcohol abuse, violence against women is a prevalent problem, there is a lack of mental health services and that the group is critical to filling in the gaps in access to health services and information.
One of its key functions is to translate health resources into several dialects of Inuktitut, and Pauktuuit says it is the only national organization that addresses Inuit-specific sexual health priorities.
The group was seeking $730,000 from Health Canada for the coming year and it says its ability to do its work will be severely limited by the loss of funding.
'Strong and healthy people'
The group's resources are used by individuals, front-line workers and health-care professionals. The group also says it's recognized as a credible source of health information that is more likely to be used than products by governments, including Health Canada.
"A strong North within Canada needs strong and healthy people. As Canadian citizens we have the right to the same health status and life expectancy as others, and the federal government has a responsibility to work with us to address the very serious health issues we are facing in our communities," Sheutiapik said.
Aglukkaq said in an interview with CBC that her department is only cutting funding to groups that do not provide direct health care services.
"My priority was to protect the frontline health care services of all nursing stations in First Nations, Inuit communities throughout Canada as well as to protect the funding to the province and territories who actually deliver front-line health care services and that's exactly what we've done," she said.
Aglukkaq noted that nursing stations are able to deliver health promotion and prevention programs such as the ones provided by Pauktuuit.
This isn't the only group upset about losing funding from Health Canada's First Nations and Inuit Health Branch. The Native Women's Association of Canada is laying off four people because of a 20 per cent hit to its budget, and has to cut diabetes and HIV awareness programs.
In response to the cut to the Native Women's Association of Canada, Health Canada stated in an email, "The priority is to protect front-line health services for First Nations and Inuit communities. As this organization does not deliver health-care services to communities, no direct services will be affected."
Related Story:
Health Canada cuts funding to native women's group, CBC News
For more northern stories from CBC.ca, click here.