Gentle breakup on Alaska's rivers keeps flooding at bay so far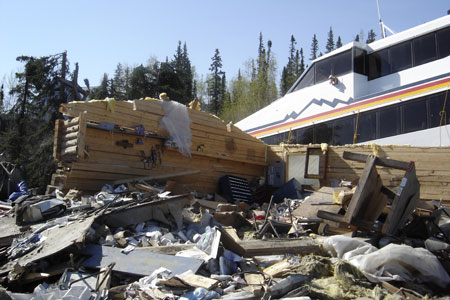 There's no stopping it. When Alaska welcomes spring and summer, things get messy. Snow and ice melt send a new influx of water into rivers and streams.
When the melt is slow and gentle, things proceed in an orderly progression of rising and falling river levels. But when the melt is rapid, flood waters can be unpredictable, dangerous and destructive.
As breakup season begins, things are progressing smoothly, according to Scott Lindsey, a National Weather Service hydrologist at the agency's River Forecast Center in Anchorage.
None of Alaska's major river systems have had significant problems, he said, calling the weather "very cooperative" so far. But a lurking low-pressure system could change everything.
Typically, April's weather influences how much flooding follows. A cold April might have ensured rapid warming in May. But a warmer April was ideal, forecasters said, because it allowed a slow warm up accompanied by slower melting, minimizing the likelihood of a huge surge of meltwater.
Tanana, Salcha flooding
Still, the 2012 spring flood forecast for most of the state remains above average. The Old Richardson Highway and neighborhoods in Tanana and Salcha have seen a little flooding in recent days, but as of Thursday the flood advisory had been suspended and the river level had dropped three feet.
Forecasters believe the likelihood of significant flooding in the Upper Yukon and Tanana rivers is decreasing, Lindsey said, allowing that the potential for minor flooding remains.
Regions west of McGrath face a different situation because spring there has been colder. Consequently, melting on the Kuskokwim River has not caught up with other river systems statewide. From the middle river – near the villages of Sleetmute and Red Devil –downstream, forecasters remain concerned about flooding. Communities on the middle and lower Yukon also remain at higher risk.
A possible complication is a low-pressure system showing up on weather models that could bring arctic air to the state next week. That might mean lower temperatures and a possibility of snow, a combination that would drag out the breakup process. On the Yukon, where warming has begun, slowing the melt down could actually reduce the flood risk. But on the Kuskokwim, it could worsen the threat by delaying ice melt and possibly adding new snow to the pack.
Yukon breakup near
Breakup on the Kuskokwim technically began in the village of Nikolai, where the ice shifted and went out April 19. But the river ice largely remains hard downstream, without much rotting.
The Chena River went out April 23 in Fairbanks.
And the Yukon River, at Dawson City in the Yukon Territory just above Eagle, Alaska is expected to go out any day.
Breakup seems so close that Gary and Ann Millard are contemplating holding their annual breakup barbeque on Saturday instead of Sunday. If they wait until Sunday, they worry they may miss it.
Looking out from their riverside home, signs of the approaching breakup are in the air: a ring of water laces the small island across from them, ice is starting to lift on the river, and on Wednesday eagles and ducks stayed the night for the first time this season.
The couple has lived in Eagle for years, where Ann works at the local school and sits on the city council. They endured the massive, ice-prompted flood in 2009 that destroyed homes, businesses on the waterfront and the entire old Native village in Eagle, a short distance upstream.
"It was a bad, gnarly year that year," Gary Millard recalled in an interview Thursday. Huge, hard jumble ice had frozen in place and wasn't ready to give when temperatures soared into the 80s melted the heavy snow load in the mountains, causing the mighty Yukon to swell. With the ice blocking the flow of water, the community got hit multiple ways. Pooling water from the jam backed into town. When things finally gave way, large chunks of ice were hurled into buildings and trees when water began to roar downstream.
"The ice doesn't look as angry this year," Millard said. It's flat and he thinks it's starting to rot, which will allow water to flow through instead of backing up. Plus, temperatures are hovering in the 50s.
"I think it's easy going," Ann Millard said. Still, even though people aren't worried about the kind of mayhem unleashed by the 2009 flood, she said it's still unnerving — people just seem more clenched and anxious then usual as they wait for the ice to move.
Contact Jill Burke at jill(at)alaskadispatch.com
For more stories from Alaska Dispatch, click here.