Dozens of dead moose discovered in Arctic Finland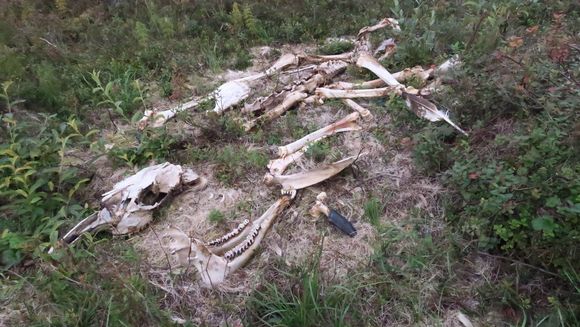 Dozens of moose carcasses were discovered last spring in a Lapland national park, and Finland's animal disease watchdog Evira has since determined that the animals died of malnutrition.
The reason why they were unable to find sustenance is a mystery, as the area had relatively normal temperatures and snowfall last winter.
Last winter witnessed the death of up to one hundred Eurasian elk or moose at the Lemmenjoki National Park in Finland's Lapland. Studies later showed that the animals died of starvation, but why they were unable to find food is still a mystery.
Avid hunter Jouni Martikainen heard from a local reindeer herder that several dead moose had been spotted south of the village of Angeli in the park.
"It inspired me to ask the game management association for money for petrol so I could snowmobile to the area and see the carcasses for myself. I wanted to take samples that I could submit to Evira," Martikainen said.
Martikainen and a friend found dozens of moose skeletons in the place the herder guided them to, but they had been thoroughly picked over by nature's scavengers. No internal organs were left that could have shed more light on the cause of death, but the men managed to gather some remains together and send them to Finland's animal disease watchdog Evira office in Oulu for examination.
"Despite the small size of the Angeli moose sample – just a skull and a few limb bones, we were able to establish that the animals perished from lack of food. The animals had been dead for quite a long time, so there were no organs we could examine," says Evira's special researcher Marja Isomursu.
Died of hunger
Isomursu says that 30 dead moose found easily in a small area bodes poorly for the overall situation.
"We have to compare it to total moose density in the region, and I don't have that information. If the area has been a winter gathering ground, and the elk have travelled from greater distances to congregate there, there could be many more dead elk to be found," she says.
It is unclear if the deaths are related to chronic wasting disease, a fatal disease found in North America's deer family. The first case of CWD was discovered in Europe last year in Norwegian free-ranging reindeer.
Probably more bones out there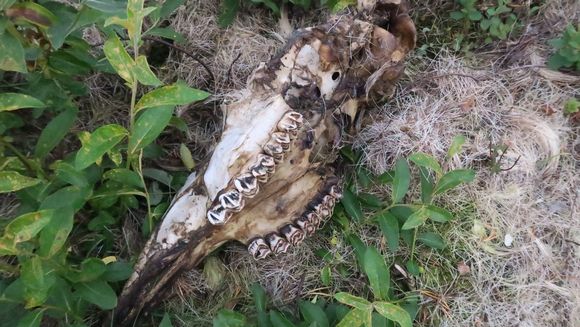 Martikainen also believes that more carcasses could be found in the park.
"The areas are so vast that no one could find them all. Even though our guide had seen the bones earlier, we still had trouble finding them because they were buried under all the snow. I wouldn't be surprised if there were one hundred of them."
More dead moose have been discovered as far north of Angeli as the town of Karigasniemi. Esa Vuomajoki, a nature observer for the national steward of Finland's forests Metsähallitus, told Yle's Sápmi unit that about 30 carcasses had been counted.
Statistics show that there were between 77,000 and 100,000 moose in Finland during the 2015-2016 winter season.
Winter is coming again
Hunter Martikainen fears for the moose in Lapland again this coming winter. He says calves will be the first to suffer, as most of the dead moose he found were either calves or young bulls.
"There are fewer moose out there, that's for sure. I only saw one moose in 12 hours yesterday, even though I travelled 30 kilometres. In previous autumns I would see easily see dozens of them on a trip like that."
Related stories from around the North:
Canada:  Is climate change making the muskoxen sick on Victoria Island?, Eye on the Arctic
Finland: Finland raises bear hunting quotas, Yle News
Iceland:  Feature Interview – Hunting culture under stress in Arctic, Eye on the Arctic
Norway:  Grouse declines lead to strict hunting regulations in Arctic Norway, The Independent Barents Observer
Russia:  Are wolves from illegal Russian kennel in Finland?, Yle News
Sweden: More wolves can be culled after Supreme Court decision, Radio Sweden
United States: Lack of sea ice has deep impact on wildlife and upcoming weather in Alaska, Alaska Dispatch News