Dead birds found at Talvivaara mine in east Finland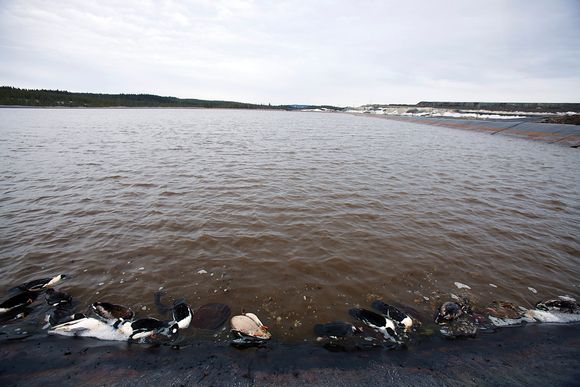 At least 30 dead birds have been found in a reservoir near the Talvivaara mine in Eastern Finland, reports the daily Helsingin Sanomat.
The Finnish Food Safety Authority (Evira) is to investigate the incident.
A reporter and photographer from the newspaper saw dozens of dead and dying birds in the mine's process solution reservoir while on an unauthorised visit on Friday.
The mining company has asked police from the local municipality of Sotkamo to investigate both the dead birds and the reporter's trespassing on the site.
Police have samples of the liquid in the reservoir, taken on Friday.
A company representative acknowledged that the basin includes high levels of potentially toxic metal particles. However he said it was unusual for many dead birds to be found there at one time. He said the fowl probably landed there since the nearby lakes remain frozen.
The Finnish Environment Institute (SYKE) says the birds were probably killed by chemicals in the water. It says the discovery is exceptional.
On Sunday, The Finnish Food Safety Authority (Evira) said it will examine the dead birds and plans to discuss with Talvivaara on how to avoid similar incidents. Evira says the research will last several weeks.
The mine currently produces nickel and cobalt, and plans to begin producing uranium. It has been frequently accused of polluting the surrounding area.
As of Friday afternoon, some 160 complaints and comments had been filed regarding the planned expansion of the mine's operations. In mid-April, the municipality demanded that the Talvivaara company to pay more attention to the views of nearby residents and those who own holiday homes in the nearby Vuokatti resort area.
On Friday, Talvivaara's headquarters in the city of Espoo, is southern Finland, was vandalised with spray paint.
Related Links:
Talvivaara metals plant allowed to restart operations, YLE News
Authorities delay Talvivaara uranium permit, YLE News
For more stories from YLE News, click here