Police remove Greenpeace from Finnish icebreaker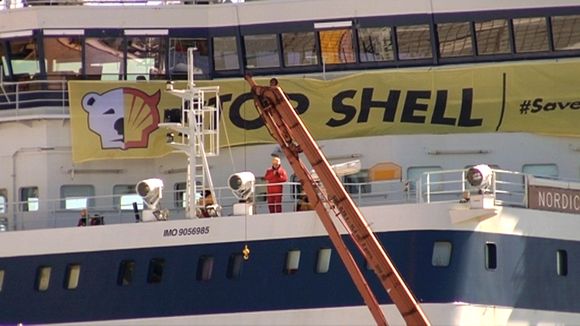 15 activists from 10 countries onboard says Greenpeace
Police on Tuesday evening removed Greenpeace activists from the icebreaker Nordica currently docked in Helsinki.
The activists had boarded the vessel to express opposition to the lease of the ship to the Shell oil company for operations in the Arctic.
Police negotiated with the protesters for several hours before starting an operation to remove them.
Greenpeace says that the activists who boarded the icebreaker Nordica in Helsinki on Tuesday morning were attempting to prevent its departure to Arctic areas north of Alaska. 
Onboard, according to the organization, there were 15 activists from 10 different countries who locked themselves into different areas of the vessel.
Sister ship en route
The icebreaker Nordica is owned and operated by the Finnish state-owned company Arctia Shipping. Its sister ship, Fennica, departed for Alaska in March. According to Greenpeace, the Nordica is also scheduled to depart for the same destination within the next few days.
The international oil giant Shell has a three-year lease for part-time use of the two vessels in support services in the company's oil and gas production along the north coast of Alaska. During the winter months, both vessels are to be in service assisting maritime traffic in Finnish waters.
In practice, the intended job of the two icebreakers is keep the icepack from threatening oil drilling platforms off the northern Alaskan coast. Greenpeace says its present action is aimed at protecting the Arctic environment.
"The oil companies know quite well that an oil spill on the coast of Alaska would destroy the environment and would be impossible to clean up," Green Peace Programme Director Tapio Laakso told Yle on Tuesday.
For more stories from YLE Finland, click here