Humpbacks free themselves of fishing gear in Southeast Alaska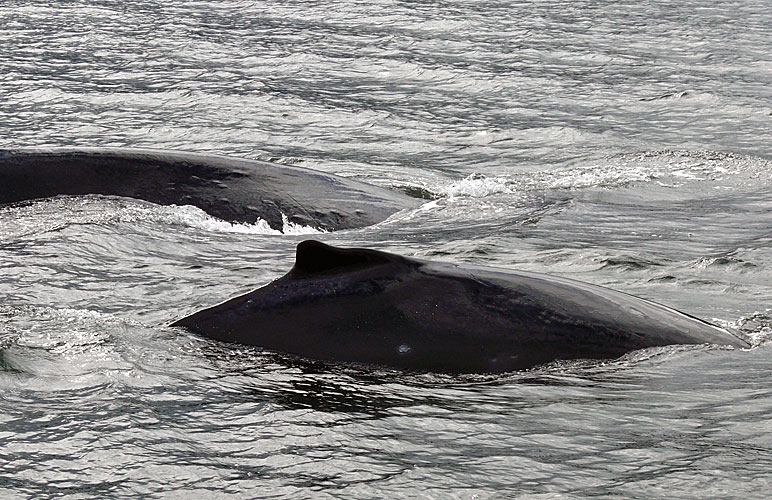 A pair of humpback whales entangled in fishing gear in Southeast Alaska managed to elude a team of scientists trying to free them — and eventually freed themselves.
On Tuesday, a seaplane pilot reported seeing a pair of humpbacks near Admiralty Island trailing an orange buoy. A team of specialists was dispatched from the National Oceanic and Atmospheric Administration (NOAA) regional office and the Ted Stevens Marine Research Institute.
They quickly found the entangled calf and its mother.
Although the mother wasn't entangled by then, it stayed close to its calf, according to Julie Speegle, a NOAA spokesperson.
The team attached a telemetry tag to the fishing gear trailing the whales, allowing the scientists to track the marine mammals by satellite. By Wednesday morning, the pair had traveled 50 nautical miles, according to the tags, swimming in an extended circle back to the same area where they were first tagged.
But later Wednesday morning, researchers discovered the whales had shed their tags, which were found in Young Bay.
"We recovered the gear and satellite tag this morning," said marine mammal specialist Kate Savage, a NOAA veterinarian. "Fortunately, the calf was able to shed the fishing gear on its own." About 300 feet of fishing line and the buoy were recovered that were identified as personal crab pot gear. Officials could not relocate the whales after recovering the gear.
NOAA reminded Southeast residents on Wednesday to make sure their gear is not soaking when not actively used to prevent similar incidents.
Humpbacks can weigh nearly 40 tons and exceed 50 feet in length. Due to hunting, the population fell by an estimated 90 percent before a whaling moratorium was imposed in 1966. Today, there are an estimated 80,000 worldwide — with about 20,000 in the North Pacific, according to NOAA. The mammals have been arriving in Southeast's Inside Passage over the couple of weeks. They feed in Southeast Alaska after migrating across the Pacific Ocean from Hawaii.
NOAA asked residents to report any marine mammal in distress to the NOAA Fisheries Marine Mammal Hotline at (877) 925-7773.
Contact Mike Campbell at mcampbell(at)alaskadispatch.com
For more stories from Alaska Dispatch, click here