Arctic oil: 1970 study holds surprises on oil spill cleanup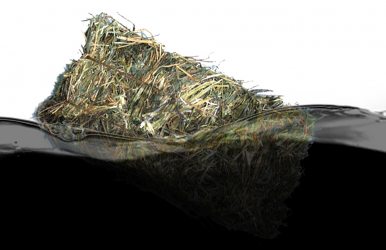 Good old-fashioned hay works great for cleaning up oil from ice and cold water, according to a decades-old study conducted by the U.S. Coast Guard off the Arctic Ocean coast years before Prudhoe Bay began supplying the nation with oil.
Hay is also way better than peat moss, which tends to break up easily, making it hard to distribute and hard to collect once oiled. The unusual study was conducted on a drifting ice floe southwest of Barrow in the Chukchi Sea in 1970 as the oil industry was ramping up plans to tap what would become the nation's largest oil field.
Forty-two years ago, it was OK under federal law to dump real oil into the water for such tests. Not tested at the time were skimmers, booms and synthetic absorbent pads for soaking up oil, some of the key tools used by industry today.
For the old study, the Coast Guard dumped at least two barrels of Prudhoe Bay crude onto the ice floe and into water, at one point even drilling a core hole and pumping oil several feet below the surface, then sending divers down to observe the mess as it formed globs and came to rest beneath the ice.
Such a study would never be conducted today, says Alan Dujenski, a marine safety consultant living near Seattle who at the time was a young sailor on the Staten Island cutter that conducted the tests. Dujenski, who rose through the Coast Guard ranks to retire as a commander in 1993, said he helped log data used in the 1970 study in Alaska.
The findings touch on a sensitive area as Shell inches nearer to conducting exploratory drilling in the Arctic Ocean for the first time in more than a decade, and the Coast Guard plans to return to the US Arctic for an unprecedented oil-spill drill, this time to see how well a skimmer — a floating vacuum that sucks up oiled water — works in cold water in the event the agency is needed to help mop up a spill.
Conservationists often argue that oil can't be recovered from ice. But there haven't been a lot of studies using real oil in the natural environment, at least not in the U.S.
Burning, hay tools for oil-spill cleanup
The testing occurred for a week in late July 1970 amid temperatures mostly above freezing and rising into the low 50s, with the Coast Guard cutter Staten Island moored to an ice floe that drifted more than 100 miles off the west coast of Barrow, the nation's northernmost community.
Cautioning that a winter test could present an entirely new set of problems for responders, the summer test found that in general, sea ice ridges and pockets can help contain ice when "non-turbulent" conditions are present, meaning there are no strong winds or current.
The test also found that burning can remove up to 98 percent of the oil, at least for small amounts of oil and possibly larger spills.
The old report holds some surprises, says Chris Krenz, Arctic program manager with Oceana, a group that has joined others in lawsuits designed to stop Shell's exploration drilling plans.
"This study found that igniting even somewhat weathered oil worked well, whereas we are under the impression that it is not always so easy to ignite the oil," says Krenz, who was emailed a copy of the report by Alaska Dispatch.
In fact, the study found that both fresh oil and oil several days old burned quickly and "furiously." Lighting the oil required no burning agents, just a flaming rag tossed into a pool of crude. The fire produced a lot of black smoke, and left balls of tar that were easily cleaned.
A second surprise found by Krenz: The study did not find oil-degrading microbes present in the surface water, "something that more recent industry tests have reported."
Hay sponges?
As for the hay that cleaned up more than 80 percent of oil from a 22-gallon pool of the stuff, it was easy to distribute and collect, and absorbed more oil than peat moss, the study found.
Maybe those who called for straw to play a greater role in BP's Gulf of Mexico cleanup effort in 2010 were onto something, as demonstrated by this video below.
Then again, maybe not.
Today's synthetic absorbents soak up more oil and less water than hay, Krenz says. The less water soaked up the better, since that lessens the risk of the absorbent sinking and reduces transport and disposal costs.
An EPA website shows synthetic absorbents can hold up to 70 times their weight in oil, compared to hay's ability to hold up to 15 times its weight. Real oil spills, such as the Exxon Valdez spill in 1989, generally see far less oil recovered, often just a fraction of what is spilled.
Other studies looking at oil recovery on ice include one released this year that catalogues past studies, including the 1970 Coast Guard study and those done in Norway in recent decades, where oil can be spilled into the natural environment to simulate a real spill. And there's also a study done by the World Wildlife Fund.
Contact Alex DeMarban at alex(at)alaskadispatch.com
For more stories from Alaska Dispatch, click here