Mine in east Finland criticised for water management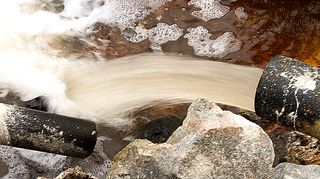 The Sotkamo municipality environment and technical committee has criticised water management practices at a Talvivaara open pit mine in Sotkamo, eastern Finland.
Earlier this summer officials at the Talvivaara mine in Sotkamo applied for a license to increase the volume of overflow water stored in the gypsum precipitate well at its open pit mining operations in Kuusilampi. Talvivaara has already begun work to expand the capacity of the pool, and the project is to be completed by the end of September.
However recent heavy rains have created a five-hectare pond of rain and overflow water from the quarry. Talvivaara has estimated that there are currently about 350,000 cubic metres of water in the pond, which will have to be drained into the nearby Kuusilampi overflow pond.
The environmental and technical board of the city of Sotkamo, however, said that Talvivaara should have been aware that heavy rainfall is normal and predictable in some years and that the company should have laid out precautionary measures in the planning stages of is water management processes.
The board said the company must in the future focus more attention on its water management practices and ensure that run off ponds are large enough to accommodate exceptional situations without resorting to emergency measures.
Related News:
EU probes environmental record of Finnish mining company, Yle News
For more stories from Yle News, click here