Filmmakers take different approaches to Inuit culture in Canada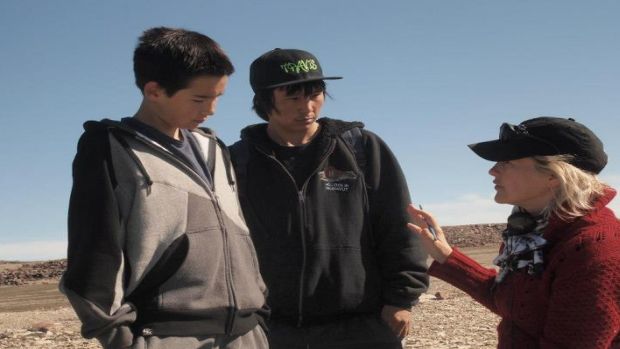 Canada's film industry continues to increase the profile of the country's eastern Arctic territory of Nunavut. The territory has attracted, and nurtured, many filmmakers in recent years.
Two acclaimed directors were in Igloolik this summer, beginning work on their latest projects. In Igloolik, Inuit tradition and culture run deep. But like many northern communities, it's facing changes.
The two award-winning filmmakers are documenting them in very different ways. Quebec filmmaker Marie-Helene Cousineau recently finished shooting her second feature film.
She said "Uvanga," meaning "Myself," is a story about family, relationships and the homecoming of an Inuit youth.
"It's a trip that's taking place under the midnight sun, so there's lots of light all the time, not much sleep and all their emotions coming up," Cousineau said.
The idea for the modern drama came from Cousineau's years of living in and travelling to Igloolik.
The film is shot in both Inuktitut and English. It's about how one boy and his family deal with the challenges of straddling two cultures.
Lukasi Forrest plays that character.
"He's a little boy from Montreal that has a father in Igloolik and a family," Forrest said. "Then they finally go and visit them when the mother thinks he's old enough, and he learns all his new Inuit ways and culture."
While Cousineau is focused on people and culture, Igloolik filmmaker Zacharias Kunuk is documenting the changing landscape.
"Ataatama Nunanga," or "My Father's Land," refers to both the land of the past and of the future. For Kunuk, the documentary will be an expression of his hopes and fears and will chronicle expected changes in the region if a proposed mine opens nearby.
"I want to walk the land with the camera – just plants, animals, birds, anything we see," Kunuk said. "What this land has." "And just do that now and, just imagine in 10 years from now, do it again and see how different it will be," he added.
Both filmmakers have documented Inuit history in their past work. But they hope their new projects will offer a glimpse into the realities facing Inuit today.
For more northern stories from CBC News, click here