Arctic summit in Alaska wraps up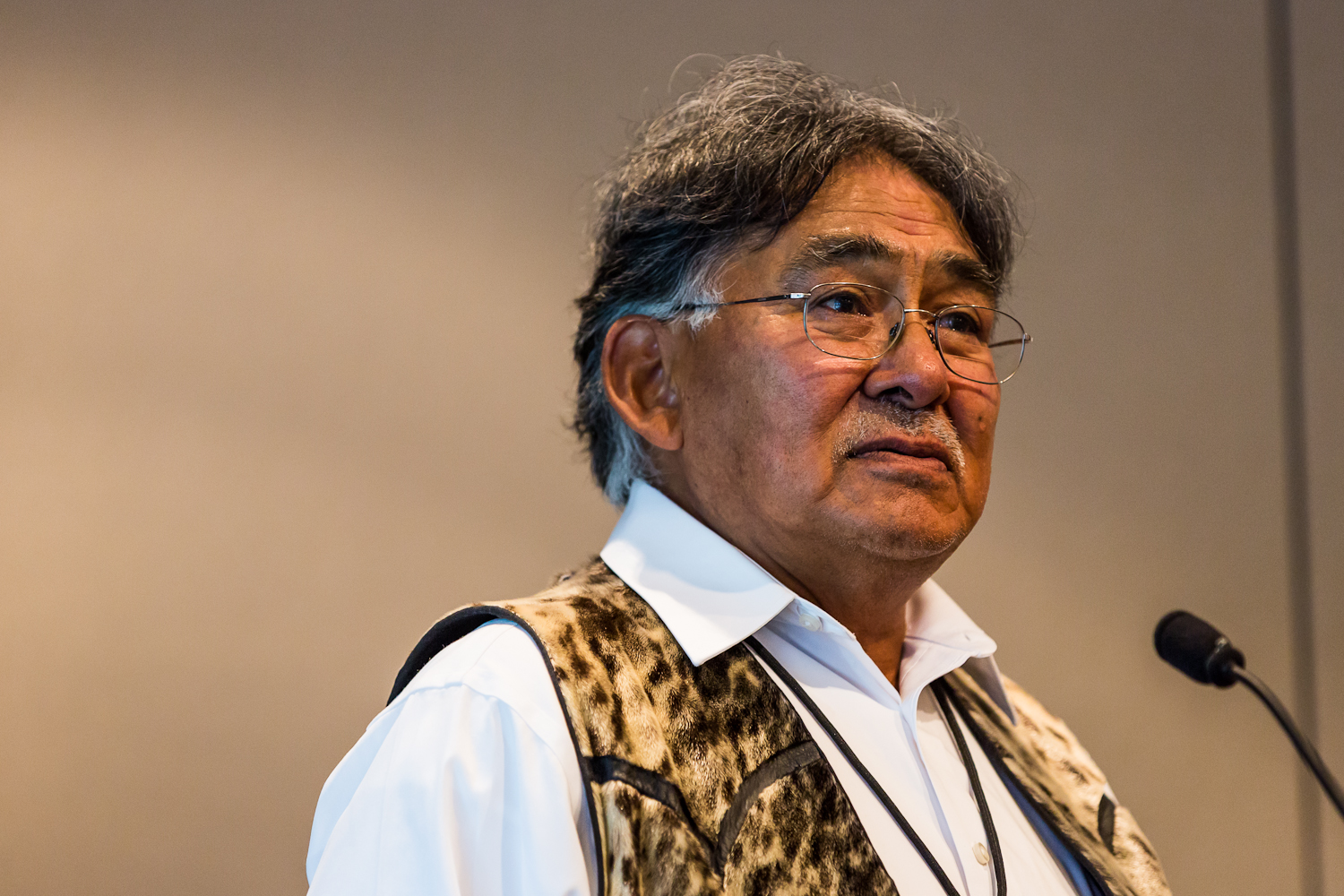 The Arctic Imperative Summit wrapped up in Alaska Monday with an illustration of how slowly things move in the Far North and a warning about how quickly that could change.
As former North Slope Borough Mayor Edward Itta pointed out in closing remarks, the Sioux Indians roamed the North American Great Plains in much the same way for thousand of years until the westward rush of development overran and swamped them. That was more than 100 years ago, and the Lakota have never fully recovered.
"I'd like to talk to you very briefly about Sitting Bull," the great Sioux chief, said Itta, an Iñupiat Eskimo. "He would never sign a treaty."
Sitting Bull did not sign because he knew that if he was to sign away the right to roam the Plains in search of buffalo, the future of his people would be forever changed. But Sitting Bull's tribe was conquered and suffered.
Itta conceded that it was probably a good thing Alaska Natives avoided a similar fate by resolving their claims to all of Alaska with the passage of the Alaska Native Claims Settlement Act in 1971. It created 12 regional Native corporations and awarded them title to 40 million acres of Alaska. In addition, they got a total of nearly $450 million in cash to aid in the formation of businesses to help provide jobs for Native people.
This social experiment is ongoing, but in general it appears to have benefited Natives in Alaska more than the reservation system benefited Natives in the Lower 48 states. The corporations have been generally profitable, and a generation of Native leaders have now cut their teeth on dealing in the world of corporate capitalism. Looking west from his Barrow home toward the empty horizon these days, Itta said he sees "the likelihood for very large gas and oil discoveries into the Chukchi Sea."
Barrow Natives want to be involved in any business that goes on there, he said, and offered what officials of Royal Dutch Shell might take as a stark warning.
"I don't believe the lands claim (act) extinguished" claims to the aboriginal waters off the coast, Itta said. No plans are afoot to stall drilling with a lawsuit, but he hinted that if the federal government doesn't make some accommodation for tribes in any offshore development, that could happen. The federal government is now the big beneficiary of taxes on offshore oil. Others speaking here over the weekend point out that federal revenues from offshore oil and gas development, primarily in the Gulf of Mexico, are second in size only to income taxes.
Any legal action by Alaska Natives aimed at gaining a chunk of that revenue would, of course, make life even more difficult for Shell, which is already in legal-political war with environmentalists as it tries to pursue exploratory drilling offshore. Itta said he was aware business interests would probably not be happy to hear what he was saying.
"They didn't take kindly for the push for land claims a few years ago," either, he added.
Itta argued for some sort of cash settlement and marine reserves to protect the "natural capital" of whales around which Iñupiat culture revolves. Whale hunting, he said, is "key to our culture … (and) there's no question we have to have cash … We can't go backward. We know that." Fuel now powers both the subsistence and cash economies in northern Alaska.
Itta's presentation drew a standing ovation from the crowd before Iceland President Olafur Ragnar Grimsson followed him to the podium to underline a couple things.
Past mistakes, present gaps
"We have to create a mechanism to have a formal impact," he said. "These mistakes have been made before."
Unless Arctic interests find a way to work together, he said, they are likely to continue struggling along to struggle until comes the new economic dawn that overruns them. There seems little doubt in anyone's mind that a world oil crisis can start a stampede toward the Arctic, which is believed to hold the last great pools of oil. They remain beneath the ground now, with a few key exceptions such as Prudhoe Bay, primarily because development costs are so high, which is the big problem of the moment for every business in the Arctic, from minerals to tourism to fishing to local government.
Nome mayor Denise L. Michels told the conference of the famous, old mining community is now within about 600 feet and $40 million of completing the first deep-water port in Northwest Alaska. It wouldn't be much, simply a place to dock an ocean-going ship. Those vessels need 35 feet of water to operate. Nome has extended its breakwaters to enclose an area down to minus-22 feet, Michels said, "so we're a little short."
But a tanker that broke ice to deliver fuel to the community this winter, an incident that attracted national attention, showed that deep water was closer than officials had thought.
"Our charts were outdated," Michels said. Government nautical surveys are rarely done in the Arctic, but Nome now has real-world knowledge of the water conditions.
"We don't have much farther to go to reach minus 35," she said. She hopes the journey to minus-35 is faster than the trip to minus-22.
Discussion of a port in Nome, a regional hub, started 100 years ago. Work on a causeway, which was to have stretched 3,600 feet in to the sea but now only goes 2,712 feet, began in 1985. Progress at the moment, moves at a glacial pace in the Arctic. Many think that given the economic, regulatory and physical climates, things could remain that way for decades.
But nobody is dismissing the possibility of a sudden change.
It is 4,000 miles shorter to ship products between Europe and Asia via the Northern Sea Route, across the top of Russia, than to send them on the long trip south to the Suez Canal and around India to the east. The Arctic Ice Cap shrank to a record low this year. The Arctic Ocean appears to be going ice-free. If that truly were to happen, the whole region could change radically almost overnight.
Contact Craig Medred at craig(at)alaskadispatch.com
For more stories from Alaska Dispatch, click here