Shell may start Arctic drilling next week as villages ready for risks, riches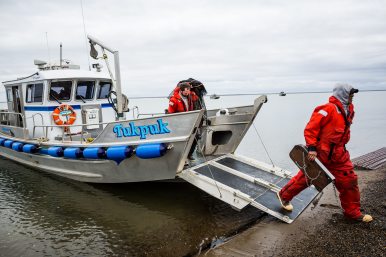 WAINWRIGHT, Alaska — Only days before Royal Dutch Shell won government approval to sink a drill bit into the bed of the Chukchi Sea, Hugh Patkotak Sr. stood on a beach along the wild, undeveloped coast 61 miles east of Alaska's next great, crude-oil hope and tried to explain the nature of the human condition.
"I keep hearing my father say, 'Progress will come whether you like it or not,'" Patkotak said.
Progress seemed in that moment a long way off. The gray clouds of an Arctic sky stretched away to the horizon to meet the gray water of an Arctic sea.
The loudest sound to be heard was the methodical thump-thump-thump from the feet of runners from the local cross-country team pounding down the gravel beach toward a bluff. The weather-beaten houses of the village with, their yards full of broken snowmachines and four-wheelers, lay hidden out of sight behind the bluff.
And yet change lurked just over the horizon. Two days after Patkotak made that comment, U.S. Secretary of the Interior Ken Salazar shocked even Shell itself by announcing the company could proceed with preliminary drilling of a single well in the empty sea 61 miles from this village.
Salazar did impose limits. The company must stop drilling nearly a mile short of any expected pools of oil and gas. Still, the conditional approval will allow Shell to finally get to work after six years of waiting. At Shell's headquarters in Anchorage, the mood was optimistic. The company saw the news as monumental. One Shell executive said he wanted to frame the letter providing approval.
"Ladies and gentlemen, there's no other way to couch this. Today's announcement is extremely exciting," Pete Slaiby, Shell's vice president in Alaska, told a roomful of reporters. "We've been waiting for this for about six years, and our goal of being able to drill in the Chukchi is about to take place."
The drill ship Noble Discoverer could be over the planned drill site as early as Friday, said Slaiby. Early well work could begin next week. One of the first steps involves setting up key safety equipment to control and stop a runaway well, he said.
RELATED VIDEO: Detailed animation of Shell's plans
The start of drilling marks what Shell hopes is the beginning of the end of an odyssey that has cost the company more than $4.5 billion.
Salazar has permitted Shell to drill to only 1,400 feet. To continuing drilling thousands of feet deeper into the oil and gas deposits under the seabed, Shell must get the Arctic Challenger barge on scene. The barge — one of Shell's line of defenses in the unlikely event of a spill — remains in Bellingham, Wash., and must be certified by the Coast Guard before it can head north. The process could take another two weeks or more.
On the ground in Wainwright this week, there is little evidence Shell has done much. The Iñupiat Eskimo village has some new, rough gravel roads, but not much else.
There are weather-battered houses common to all rural villages in the 49th state. A couple of large shops dot the community. And there's a bunkhouse inhabited by the people from Shell and some of the employees of Olgoonik — an Alaska Native village corporation set up under the terms of the 1971 Alaska Native Claims Settlement Act to help ease the people of the far north into the world of capitalism.
Only a generation ago, people here hunted the sea for survival. Many still do, but most live these days in a complicated and blended version of worlds old and new.
A tough life
Hugh Patkotak is an Iñupiat hunter born and reared in Wainwright. He grew up in the village when it had no phones, no sewer, no running water and no TV. He can remember when lives depended on the ability of the men to hunt and the skills of the women to sew. There were no thoughts of sexist roles then. There were vital jobs for everyone. The men killed walrus, whales and seals. The women sewed skins into the coverings for boats on which the men's lives depended. Should a seam fail in a storm, they could all drown and die.
It was a tough life. An Alaska Native born in 1950 had a life expectancy of 46 years — 22 years less than the average American. A decade later, thanks to the arrival of the vanguards of modern medicine and the help of post-war technologies that began to make hunting for food easier, average life expectancy had increased to age 61. But that still lagged almost a decade behind the rest of the country.
It was in these years that Patkotak was growing up. He has lived a life that has seen nothing but constant change. Once there were no phones in the village, and then a single phone shared by everyone. Then, not all that long ago, phones started appearing in individual homes. And now, almost everyone has a cell phone. On the North Slope of Alaska today, they are more ubiquitous than the rifle.
Patkotak needs his to do business. He is the chairman of the board for Olgoonik, That is not, however, his only employment. His day job is as senior pilot for the Search and Rescue division of the Barrow-based North Slope Borough some 70 miles to the northeast. As such, he knows the good that oil can bring as much as the bad.
Oil money — coming from property taxes on Prudhoe Bay and other oil fields to the east — has helped transform Barrow in four decades. The town has gone from a rough outpost to a thriving community of about 4,500 people on the northern tip of the North American continent near where the Chukchi and Beaufort seas collide.
The North Slope Borough has a first-class hangar along a jet-served airstrip in that community. The hangar was paid for by taxes on oil. Inside it are two helicopters used by the borough in search and rescue; they have saved hundreds, possibly thousands, of hunters who might well have died in earlier times. The helicopters, too, were paid for with oil money. Likewise, the Beechcraft King Air plane that can medevac a sick or badly injured resident of Barrow south to an Anchorage hospital in a matter of hours.
Barrow is, admittedly, no Anchorage, Alaska's largest city. The roads are still gravel, the homes weathered. There are no million-dollar mansions, like those in Anchorage's Hillside neighborhood. There are no hillsides in Barrow. The tundra all around is as flat as the sea beyond.
Prices in the grocery stories are astronomical. A gallon of milk costs about $10, a dozen eggs $5. A six-pack of soda will set you back more than a dollar per can. But life has definitely improved. If you take a tour of Barrow, someone is likely to drive you past an archaeological site, where were uncovered the bodies of a couple who froze to death in their sod hut, and farther down below — in soil from hundreds of years before — the body of a frozen baby.
The people who live in the north know their history. And they are fully aware of the rest of America. From decades of watching television and now surfing the Internet, they know how America lives. The kids are into rap and hip-hop. In the village of Gambell on St. Lawrence Island, located in the Bering Sea not far from Siberia, an elder Wednesday expressed his concern for people hit by Hurricane Isaac coming ashore in Florida. "People could die," he said.
Oil brings money, risks
Alaska's Native population remains way different from most of America. The skins of dead animals still hang outside many a house. An urban environmentalist would be horrified. But inside those houses are people who want much of what everyone in the country wants — a better life, a comfortable life, a life free from worries about how you feed yourself tomorrow.
It takes money to create such a life. And oil brings money, along with promises of more money.
It also brings great risks.
Former North Slope Borough Mayor Edward Itta talked about the promises and risks at the end of the Arctic Imperative Summit in Anchorage and Girdwood on Monday. He said that as mayor, he thought it his job to negotiate with the oil companies to get the best deal for the region as offshore oil exploration moved toward possible development. As the former mayor, he added, he's not so sure he's going to stick with that position. He doesn't like the threat oil poses to the animals he hunts.
All along the coast from Barrow south to Kotzebue, there are people with similarly mixed feelings about oil development in their "ocean garden," as some call it.
They understand the devastation an oil spill could bring. They watched the 2010 Deepwater Horizon disaster in the Gulf of Mexico unfold on TV. They are versed in the history of the 1989 Exxon Valdez in Alaska. The oil spilled after that tanker hit the rocks in Prince William Sound killed hundreds of thousands of birds, hundreds of seals, and whales. It left residents of the area afraid to eat food from the land for years because of concerns it might be contaminated.
Shell, the first of a string of oil companies lined up to explore in the Chukchi, understands the legacy.
In Wainwright this week, crews in four aluminum landing craft were training for oil-spill prevention. Some 40 men and women in the village are involved in that effort, a Shell spokesman said. The 26- to 32-foot boots were shiny new. They had comfortable cabins aft, and ramps at the front they could lower to make it easy to load or unload boom, or a four-wheeler. Kevin Hand, president of Olgoonik, confessed they'd make great hunting craft when not at work preparing for oil-spill prevention.
"They've been here all summer," he added. The crews "are kind of bored."
With Shell's activities on hold for months, they've spent their time hauling around Shell-hired scientists investigating the marine life of Wainwright lagoon and the surrounding area. Two former crab boats were working farther offshore. The scientific works needs to be done because this is where a pipeline would come ashore — if a pipeline comes ashore.
First, Shell has to find oil. Then Shell — and perhaps ConocoPhillips and Statoil, which also hold leases in the Chukchi — has to determine there is enough oil to make production an economically viable proposition. The cost of development in the Alaska Arctic is sure to go into the tens of billions. Some analysts have tossed around a cost $40 billion to $50 billion for Shell alone. To date, Shell has spent seven years and more than $4 billion moving toward exploratory drilling, with little to show for it.
How oil might transform Wainwright
Olgoonik has a slick brochure with an artist's rendition of how Wainwright would look after offshore oil development. It shows a causeway and a dock north of town and a pipeline coming ashore. To the east of town, near an old military complex that once housed one of the radars for the country's Distance Early Warning (DEW) system, the brochure shows an oilfield camp, an equipment yard, an alternate yard, a support base, a fuel farm, another airport and a heliport.
Each of those facilities is about the size of the village itself in the drawing. Collectively, they would appear to represent a development five or six times the community of 600.
As of yet, though, almost none of this exits.
There is merely rough gravel road out past the landfill to where the construction of facilities would begin. It was built of gravel dug out of frozen Wainwright Inlet in the winter. The gravel was piled five feet high on the tundra to prevent the permafrost beneath from thawing. The gravel sat there in frozen chunks as the ice holding it together melted. It is now soft and wet and will need to sit for another year before construction crews can begin to compact it into a real road.
A construction worker said he thought the work that had already been done had cost about $3 million, but added "don't hold me to it."
Such an expenditure would not be uncommon. Officials to the south in the community of Kotzebue are talking about a cost of $30 million for six miles of road to a would-be port they hope could encourage mining development and help lower transportation costs for goods shipped into the area. They have been working toward that port for years.
Development in the Arctic is both slow and costly. What Shell has now is barely a start. It is that way everywhere here. Another soft and newly constructed gravel road leads down to the entrance channel to the inlet, where the clean-up vessels sortie and the clean-up equipment is stored. It all fits in 23 smallish freight containers inside an area about the size of a football field.
Chain link surrounds the 14 blue containers, eight yellow and one gray. There is a weather port and a porta-potty. Nearby a shiny new, green-and-yellow John Deere tractor waits to hook up to the trailers that launch and recover the clean-up spill boats. The whole thing is pretty much a pretty show. The best technology to date has shown itself woefully inadequate to clean up any significant quantity of oil in water.
Shell's position is that it doesn't intend to spill any. People on the North Slope have little choice but to take the oil giant at its word.
If they want what comes with oil — one study estimates that if Shell goes into production, there could be tens of thousands of jobs and up to $4.5 billion in tax revenue for local communities — they must be prepared to take some of the risks. It is a deal with the devil, some argue.
"How do I deal with this river coming in?" Hugh Patkotak wondered. "When you look at it, it's kind of big. More than likely it will be overwhelming."
Change often is. No one really wants it. Most people want tomorrow to be like today, but that is never possible. Change comes.
The dog teams of old are almost all gone from this village now. They fell victim to the snowmachine, a vehicle that runs on gas and oil and needs no care when it is idle. Few, if anyone, wants to go back to dogs.
Oil, like it or not, has been on balance a good thing for the entire region.
"It improves our life," Patkotak said, right up until the moment it doesn't.
Not much economic hope but oil
As Alaska Archdeacon Hudson Stuck observed about life in the Arctic more than 100 years ago, everything is all right as long as it is all right.
Most of the people who live here seem to accept that. Some number of those who live Outside do not. They see only the risks. That is an easy thing to see for someone living comfortable in a city anywhere. Oil spills are ugly and emotionally painful disasters, and anywhere there is oil, there is the chance of oil being spilled.
"By opening the Arctic to offshore oil drilling, President Obama has made a monumental mistake that puts human life, wildlife and the environment in terrible danger," Rebecca Noblin, the Alaska director for the Center for Biological Diversity, said in a press release Thursday. "The harsh and frozen conditions of the Arctic make drilling risky, and an oil spill would be impossible to clean up."
The latter claims are arguably true. Most of the people in Wainwright seem to understand that, too. But what, they wonder, are the economic alternatives to drilling?
Alice Morgan grew up in Wainwright. She managed to battle her way through college. "It was tough," she said. "It was very tough."
The local school, she said, hadn't prepared her very well. Still, she hung on and graduated. Then she was gone seemingly forever because there were no jobs. Olgoonik, the Native corporation, brought her back. As she drove reporters around the community earlier this week, she noted the places she'd gone as a child and how things had changed over the years.
"Some of us didn't have running water," she said at the community center. "So we'd come here to shower."
She and old high school friend joked about how they'd had to put coins in the shower to get water and bath quickly before their time was up (still a reality for some other rural villages in Alaska). They still remember when people hauled water into their homes and human waste out.
"They'd deliver water and fill it up in 55-gallon drums," Morgan said. "We got flush toilets in the year 2000."
Tax dollars paid for them. Tax dollars have to come from somewhere. Oil companies are a good source. Taxes and royalties on Shell's drilling, according to one study, could net the federal government close to $150 billion.
Financially, the feds might actually stand to be the biggest winner. Nationally, taxes on the oil industry are second only to the income tax in providing federal revenue.
Itta, the former North Slope Borough mayor, has suggested maybe Alaska Natives should sue for a share, claiming that while the Alaska Native Claims Settlement Act might have settled aboriginal claims to Alaska's land in 1971, it did not resolve claims to the waters surrounding the state.
Such a suit might prove interesting, but first Shell must find oil because until it does, there is really not much out there to fight over or worry about.
Alaska Dispatch reporter Alex DeMarban contributed to this story. Contact Craig Medred at craig(at)alaskadispatch.com
For more stories from Alaska Dispatch, click here