Greenpeace activists dressed as polar bears arrested in Moscow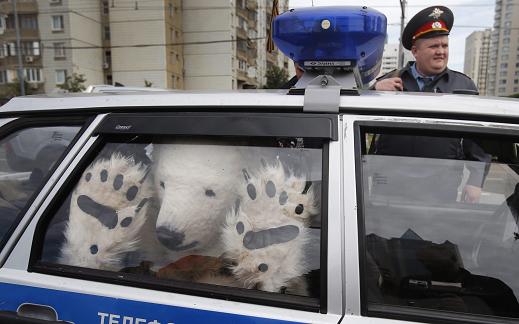 Russian President Vladimir Putin's administration made its hard-line stance against political dissent known recently by cracking down on Pussy Riot, an all-female Russian punk rock band convicted of "hooliganism" for making a political and religious protest. On Wednesday, the trend continued. At least ten environmental activists from Greepeace were arrested in Moscow for protesting the country's Arctic oil and gas drilling agenda.
Voice of America (VOA) News reports that the activists, dressed in plush polar bear costumes, holding yellow signs and parading behind a long white banner, congregated outside of state-controlled energy giant Gazpom's Moscow headquarters.
Several protesters rolled around in fake snow, and others chained themselves to a fence outside Gazprom's headquarters. The pseudo-bruins' intention: to bring white bear awareness and "demonstrate against Russia's push to drill in the Arctic."
A Russian Greenpeace member told VOA that oil exploration in the Arctic will "inevitably lead to physical destruction of the region" and that Greenpeace is trying to "create a conversation zone around the North Pole." He added that the polar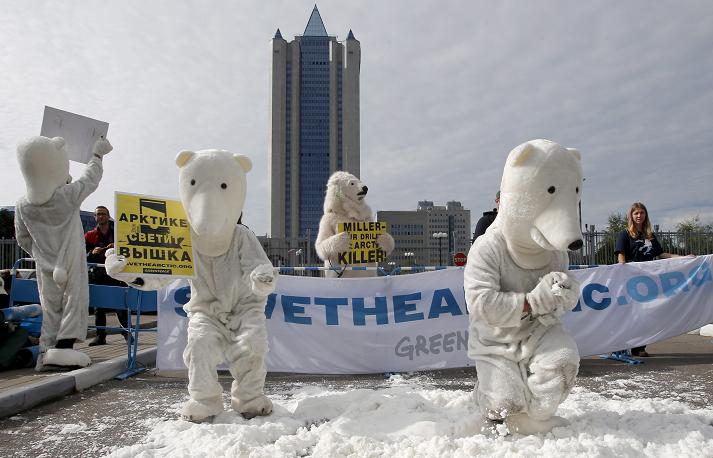 bear costumes were meant to target the oil industry's inevitable contribution to the iconic Arctic animal's numbered days.
Agence France-Presse reports the activists have been charged with violating protest rules and have been fined around $300 each.
Greenpeace and its allies have been monitoring and protesting activities in the Arctic a great deal lately. Earlier this year, actress Lucy Lawless was arrested after she boarded an Arctic-bound oil drilling rig in New Zealand. More recently, the activist group has churned out myriad stunts, including occupying a Finnish icebreaker, shadowing Shell vessels on their Arctic journey, starting a celebrity-fueled Save the Arctic campaign, and creating the hoax ad campaign called "Arctic Ready." Obviously, for Greenpeace, parading around in fluffy white polar bear suits is not the beginning, nor the end.
For more northern stories from CBC News, click here