Windmills could be adding power to Anchorage, Alaska grid within weeks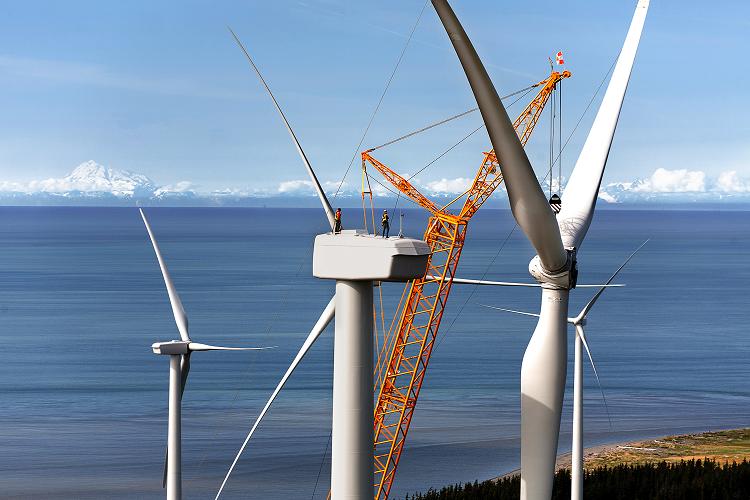 Eleven wind turbines that have altered the Anchorage landscape and will soon supplement Anchorage's power supply are up and almost running on Fire Island.
As winter looms and Southcentral Alaska recovers from multiple windstorms, Fire Island Wind, a subsidiary of Cook Inlet Region Inc. (CIRI), is in final stages of its wind power project on the 6-mile-long, uninhabited island about three miles offshore of Alaska's largest city. CIRI owns 3,600 of Fire Island's 4,000 acres.
All 11 turbines have been commissioned by Fire Island Wind, according to CIRI spokesman Jim Jager.
That means every turbine has had its internal system connected and has been able to produce wind power for six consecutive hours.
"We're at the point now where the changes that are happening are not changes you can see," Jager said.
Power isn't flowing to Anchorage residents quite yet, though. CIRI is still in the final stages of commissioning the so-called SCADA system — it allows the wind farm to communicate with Chugach Electric, which is buying the power, and vice versa — and making sure the wind farm is ready for its final, 72-hour test drive.
If there no problems, turbine manufacturer General Electric will "hand over the keys."
"We joke that they've got that 'new turbine smell,'" said Jager, who noted that the turbines weathered the intense windstorms of the last two weeks without issues. The island saw problems typical of those found in the Anchorage Bowl, including downed trees, one of which hit one of the island's power lines.
While none of the turbines were operating during the windstorms, the turbines are designed to shut down when wind speeds reach 50 miles per hour.
Each turbine is controlled by a computer system, making any shutdown automatic. Jager said crew members will visit the island a couple of times a week throughout the year for maintenance and repairs.
Right now crews are removing construction equipment from Fire Island and finishing erosion-control projects.
Jager said CIRI is on track to start commercial power production by the end of September.
The $65 million project is expected to produce 50,000 megawatt hours of power annually — enough to power 4,000 Southcentral Alaska households. All together, that's about 4 percent of the power Chugach produces.
CIRI entered into a purchase agreement with Chugach Electric to purchase power for $97 a megawatt hour for 25 years. That's higher than current prices — about $60 a megawatt hour right now — but the wind power price expected to remain consistent, while natural gas-powered energy is expected to fluctuate in price.
That contract isn't set to begin until Jan. 1, but any power produced before next year will still be sold to the Anchorage-based utility.
Contact Suzanna Caldwell at suzanna(at)alaskadispatch.com
For more stories from Alaska Dispatch, click here