Investigation launched after tanker runs aground in northern Canada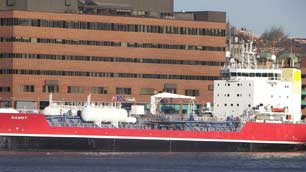 The Transportation Safety Board of Canada is sending a team to the city of St. John's, in Canada's Atlantic province of Newfoundland and Labrador, to investigate a fuel tanker that ran aground near Canada's eastern Arctic territory of Nunavut.
The MV Nanny ran aground near Baker Lake, Nunavut, on Oct. 25 but was given permission to head to St. John's for repairs.
According to Transport Canada, Coastal Shipping Ltd, a subsidiary of the Woodward Group of Companies in the town of Happy Valley-Goose Bay, Labrador, owns the tanker.
The vessel also ran aground in September 2010 in the Northwest Passage. It had been carrying more than nine million litres of diesel fuel at the time
Related Link:
Fuel tanker aground in Northwest Passage, CBC News
For more nothern stories from CBC News, click here