Waste water leaks into environment in east Finland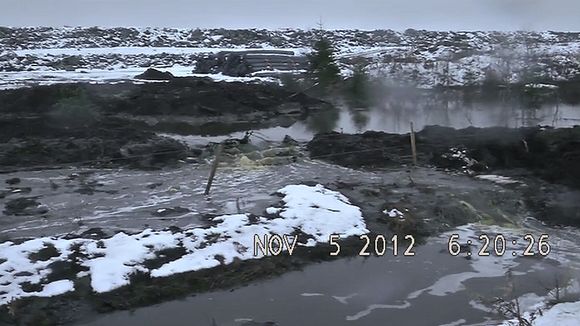 Over 200,000 cubic metres of waste water have leaked from a gypsum waste pond at the Talvivaara mine in the Kaunuu region in east Finland. Some of the water has spilled to an area outside the mine.
The company has launched the construction of new back-up ponds for the eventuality that the leak cannot be plugged.
Kaunuu's Centre for Economic Development, Transport and the Environment (ELY), which is monitoring the situation, estimates that current back-up ponds may not be enough to contain the waste water.
According to the ELY centre, the volume of leakage may still double.
Finland's environment minister Ville Niinistö has stressed that responsibility for monitoring the leak rests with the Kainuu ELY centre.
Talvivaara says water began leaking out of the gypsum pond on Saturday at the earliest. The seepage was detected on Sunday during a daily check.
The 60-hectare waste pond is leaking 5,000-6,000 cubic metres of waste water per hour into the back-up ponds at the mine.
The company says it will build dams to ensure that waste water does not get into the water system on the northern side of the mine.
The mine's metals plant has been shut down as a result of the gypsum pond leak, and will remain closed until Wednesday.
For more stories from Yle News, click here