Latest Alaska movie to be made in Canada? 'Race to Save Nome'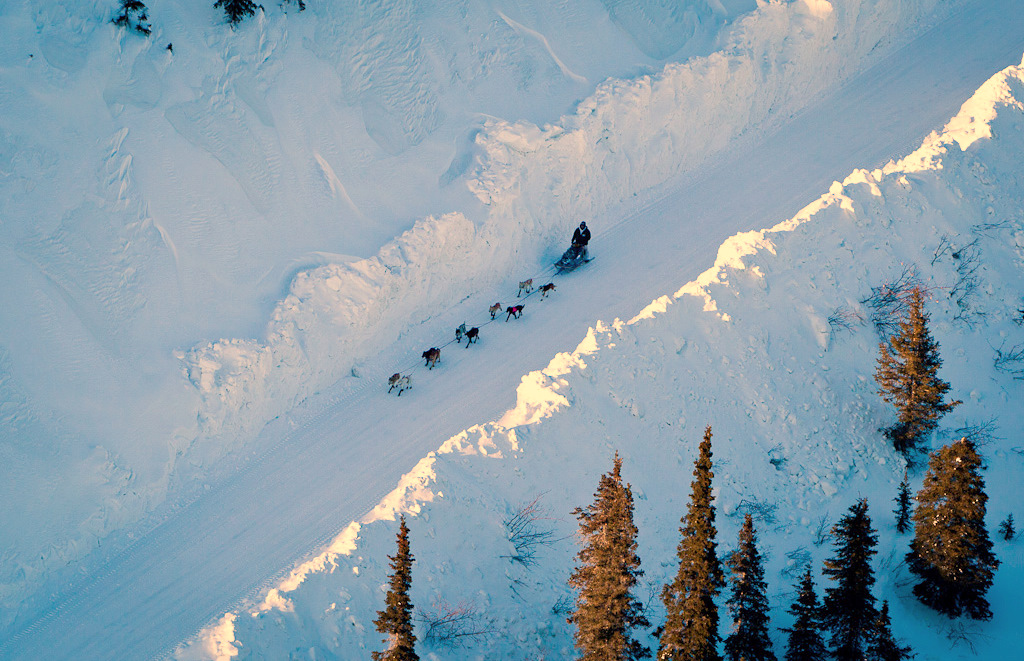 Hollywood is getting ready to save Nome — but they'll do it by way of Alberta, Canada. That's where a new major Hollywood production, working-titled "Race to Save Nome," will be filmed, according to the Calgary Herald.
The film, which will dramatize the well-documented 1925 diphtheria serum run to Nome, will also reportedly star two-time Academy Award-winner Hilary Swank and Kurt Russell.
The announcement is unwelcome news to many Alaskans who have had to endure cinematic misrepresentations of their home state for years.
We already know, thanks to "The Thing," that Russell can grow a mean cold-weather beard. But can the town of Morley, Canada, accurately represent the old Alaska city of Nome, located thousands of miles to away? Further, Alaska is home to the legendary Iditarod Trail Sled Dog Race, which was started, in part, to honor the 1925 diphtheria serum run.
Especially likely to be disappointed, though, are those members of Alaska's film community who have high hopes for a feature film industry in the state. That's thanks to a lucrative tax incentive package that the Alaska Legislature renewed for 10 years in the 11th hour of this year's legislative session.
Despite the optimism, Alaska's still-young film industry has seen only commercials and reality TV coming their way in terms of steady work in recent months.
Since the fiscal year began back in July, only 12 projects have seen pre-approval for tax credit money from the state — eight "non-fiction television" or reality TV programs, three commercials and one documentary. Any project spending more than 100,000 in qualified Alaska expenses can be eligible for the tax credits, with bonuses for local hire and filming in rural locations.
Rural locations? Sounds like Nome, which is accessible only by air or sea, thanks to Alaska's lack of roads. But, that may have also been what turned the tide in favor of the Canadian filming locale. Alberta offers its own set of tax incentives, and the primary filming location is only about 30 miles from Calgary, a city with a population of more than 1 million. According to the Calgary Herald, the production will involve the construction of a town — presumably, Nome — which would present a significant logistical challenge, particularly without roads to deliver the setpiece.
Also working in Canada's favor as an Alaska-lite filming location is past experience. The Alberta Film website boasts high-profile productions like "Inception," "Brokeback Mountain" and "The Assassination of Jesse James by the Coward Robert Ford" among previous films to shoot in the region. That means the area has a wealth of employees ready to work on a big-budget film.
By contrast, Alaska's film industry has a smaller pool of talent, who may have cut their teeth on films like "Big Miracle" and "The Frozen Ground," both of which told Alaska stories filmed in the Last Frontier and qualified for tax credits. But that feature film work seems to have dried up, leaving other, smaller productions to occupy the days of Alaska's ready-to-work film and TV crews.
According to Bob Crockett, president of the Alaska Film Group and general manager of the film industry support company Piksik, those commercials and smaller productions can only do good things for Alaska employees.
"Any kind of experience that (Alaska workers) can get on whatever production is good experience," Crockett said. "They're still being hired, and it means that they're ready to respond to larger productions that do come up."
Even Alaska-set movies filmed Outside can be good for the industry, Crockett said, noting that "Race to Save Nome" will see some of its second-unit production — location filming and general residual shots used in films which typically don't feature the main actors — done in Alaska.
He added that there's a competing film on the same subject that is still looking at Alaska as a primary filming location. But as with much in the film industry, it's pretty secretive, behind-the-scenes stuff. Talking with those in the know, there seem to always be talks occurring with producers, or even producers visiting to examine Alaska as a shooting location. With how hard it is to get movies made, only a few of those projects have come to fruition.
Movies like "The Frozen Ground" and "Big Miracle" were notable exceptions, though "The Frozen Ground" now seems stuck in post-production hell, with no release date yet finalized and an R-rated trailer floating around and quickly removed from sites that dare host it.
Some have complained that Alaska's film-tax program, absent those big-budget feature films, isn't helping the state's image. Reality TV programs like "Alaska State Troopers" and "Gold Rush: Alaska" have drawn derision from Alaskans for casting the state in a bad light.
But Crockett said that where a feature film relies heavily on out-of-state employees, the opposite is true for commercials filmed in Alaska. The budgets may be smaller, but the Alaska hire rates are higher, he said. He said that a recent legislative audit of the film tax program focused primarily on feature films, which make up only a small portion of projects taking place in the state.
"The new incentive program has not really been tested yet," Crockett said. "It's very Alaska-centric. Alaska needs to understand the size of the projects that we would benefit the most from — things like commercials and feature films that are $50 million or less."
There's also hope for a scripted television series to film in the state — a successful TV series, especially one on a major network, could represent long-term jobs for a chunk of Alaska's aspiring filmmakers.
Again, though, making media for mass consumption is often a high-risk, much-studied business model, which means it moves slowly. Alaska has 10 years to work though, and supporters say the interest in the state as a filming location is there.
For now, though, Alaskans will just have to live with the knowledge that the "Race to Save Nome" will actually be the "Race to Save Morley." Hell, if we survived "The Proposal's" substitution of Massachusetts for Sitka, we'll probably get through this OK, too.
Contact Ben Anderson at ben(at)alaskadispatch.com
For more stories from Alaska Dispatch, click here