Will railway to Alaska solve Alberta's oil exports conundrum?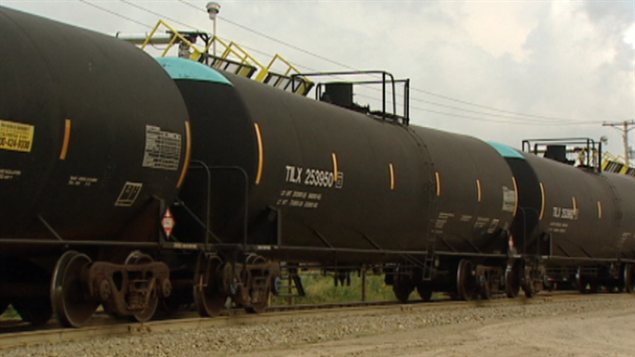 As the Northern Gateway pipeline proposal to ship Alberta oil to Canada's West Coast has run into fierce opposition from Aboriginal and environmental organizations, a group of British Columbia entrepreneurs say they have the blessing of First Nations and Native American Tribes for an alternative plan.
Generating for Seven Generations Ltd (G7G), a Vancouver-based consortium, proposes to build a railway to ship Alberta oil from the oilsands at Fort McMurray to an oil terminal at Valdez, Alaska.
"The greatest strength of our Alberta-Alaska railway concept is the support it has received from First Nations along the route," said Matt Vickers, the CEO and one of the partners at G7G, in a press release.
The proposed 2,400-kilometre-long railway would run northwest from Fort McMurray, through northern B.C. and Yukon, to connect with the Alyeska Pipeline at Delta Junction, about 130 km southeast of Fairbanks, Alaska. From there, the Trans-Alaska Pipeline System (TAPS) will carry the Alberta oil to the Valdez marine super tanker terminal for export to booming markets.
G7G claims the railway with a single track would cost $8.4-billion and would have the capacity to carry 1.5 million barrels per day. A twin-tracked railway would cost $10.4-billion and transport up to five million barrels daily.
Diane Francis, a columnist with the Financial Post, points out that by contrast, Northern Gateway pipeline to Kitimat on the B.C. coast would cost $5.5-billion and ship up to 525,000 barrels per day; and the Kinder Morgan proposal to Vancouver would cost $4.1-billion and add 300,000 barrels a day to its existing pipeline.
But do these numbers make sense? If railway transportation is such an attractive option, why do oil companies insist on building pipelines?
In an interview with the Edmonton Journal, Jean-Francois Arsenault, principal with Ottawa-based transportation strategy firm CPCS Transcom, said shipping 1.5 million barrels from Fort McMurray to Delta Junction on a single track would mean sending 10 trains every day, each pulling 200 cars. Shipping 5 million barrels a day on a double track would mean sending 6,500 rail cars each day.
"That is 33 very, very long trains," he told Edmonton Journal. "That's a train leaving every 45 minutes. While it's technically feasible, you need to imagine loading 200 freight cars every forty minutes, then unloading them at the other end.
"You would have to have at least three or four loading docks. Is it feasible? Yes. Is anything like this done anywhere else? No. That's why pipelines exist."
Arsenault, who is an economist, said the only reason oil is currently shipped by rail is because the pipelines in North America are so congested.
"The operational costs are way higher for a railway," he said, noting the labour, fuel and equipment costs associated with rail transport. He explained that private-sector investment will be hard to come by because the minute a pipeline is built, the rail line will lose all its business.
"You can't compete with pipelines," Arsenault told Edmonton Journal.
The Canadian Association of Petroleum Producers (CAPP), which represents about 90 per cent of oil and gas producers in Canada, said it too prefers the pipeline option.
Travis Davies, spokesperson for the CAPP, said while the industry would welcome any additional capacity that would increase its ability to ship oil to customers in the United States and Asia, pipelines are more efficient at moving large quantities of oil.
As the Alberta oilsands production is projected to grow from the current 1.6 million barrels per day to 3.2 million barrels by 2020, Canadian producers will need more shipping capacity.
"Market access is the number one issue for this industry in Canada," Davies said.
But while railway shipping of oil is growing, as both CP and CN look at increasing their capacity, CAPP still prefers to ship oil via pipelines.
"Ultimately you're going to need pipe projects," Davies said.