National aboriginal chief wants urgent treaty meeting
As Idle No More protests continue, national chief sent urgent invitations to meet with First Nations chiefs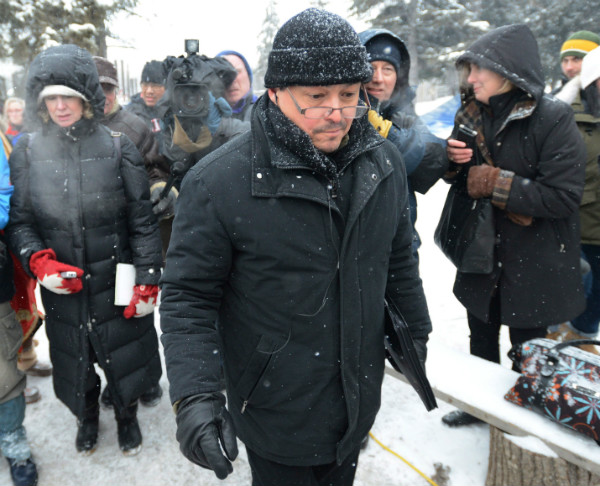 In the face of ongoing Idle No More protests and a hunger strike by a high-profile Ontario chief, the Assembly of First Nations has sent "urgent invitations" to the prime minister and the Governor General to join a second Crown-First Nations gathering on Jan. 24, the anniversary of last year's meeting.
The invitations were sent to Prime Minister Stephen Harper and Gov. Gen. David Johnston, the representative of Queen Elizabeth II in Canada, on New Year's Day.
But it remained unclear whether a meeting would be enough Theresa Spence, the chief of the Cree community of Attawapiskat, to end her hunger strike.
CBC News reported that representatives for Spence said that such a meeting would not be enough and that Spence still demands a meeting with the prime minister in the coming days.
National Chief Shawn Atleo told CBC that Spence told him that she would continue her action until a meeting takes place between the government and First Nation leaders.
"We didn't get into details whether she'd be at it or not," Atleo said. "She said even if she wasn't at it, that's what she's seeking for this meeting to occur."
Rideau Hall says the Governor General's reply "will be shared with the Assembly of First Nations in due course." The prime minister's office has not said whether he will attend.
In a news release issued Thursday morning, Atleo said chiefs from across Canada would convene again later this month, in the face of a widespread protest movement rebelling against the status quo in aboriginal communities.
"First Nations across this country have been voicing concern and frustration with a broken system that does not address long-standing disparities between First Nations and the rest of Canada, and address priorities in ways that will provide for long-term solutions and sustainability," said Atleo in his release.
Atleo noted the hunger strikes of Spence, and Cross Lake, Manitoba, elder Raymond Robinson that began Dec. 11.
A spokesperson for Spence told CBC News Thursday that she is "weak" and "experiencing some stomach pains," but is otherwise still healthy.
Attempt at compromise?
Atleo met with Spence and other northern Ontario chiefs on Thursday to discuss her demands and try to find a way to end a stalemate that has settled in with the Harper government.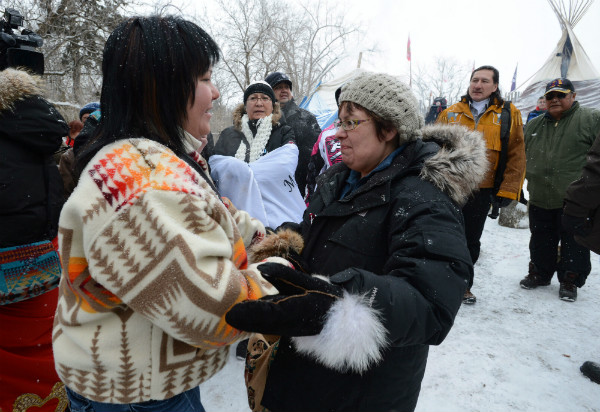 Atleo supported Spence's call for a meeting between First Nations and the Crown (as represented by the prime minister and Governor General), to discuss the "treaty relationship," in an open letter on Dec. 16.
The Assembly of First Nations says what the two leaders have been invited to on Jan. 24 is not intended to be exactly like the 2012 meeting "per se," but would be "similar."
Atleo met with senior officials in the prime minister's office on Dec. 21.
Aboriginal Affairs Minister John Duncan has offered to meet with Spence several times, writing her on Dec. 25 that the federal government is "prepared to establish a joint working group which would consist of senior federal and First Nation representatives, and would serve as a forum for clarifying the treaty relationship and exploring ways of addressing First Nations' constitutional rights."
The working group, Duncan said, would work on the priorities agreed to at the 2012 Crown-First Nations gathering.
"[I've dealt] with his little ministers before and they don't really work with us. They always put [on] a Band-Aid solution," Spence told CBC News on Dec. 27, ruling out a compromise meeting with the minister or his representatives instead of the prime minister.
Spence wants to meet with representatives of the Crown for not just one day, but "seven days or two weeks," to discuss treaty-related issues.
Meanwhile, Phil Fontaine, former National Chief of the Assembly of First Nations, has said that he plans to meet with Spence on Monday.
Attawapiskat mobilized concern last winter
The 2012 Crown-First Nations gathering was held after weeks of national concern about the plight of Spence's northern Ontario community.
Media images of desperately poor housing conditions in the face of harsh winter weather eventually mobilized both political and material support. But Spence argues not enough has been done in the months since.
The concerns expressed by Idle No More participants and supporters extend beyond Attawapiskat's troubles.
"Through the 'Idle No More' movement, we have seen a tremendous outpouring of energy, pride and determination by our peoples in recent weeks," wrote Atleo. "This level of citizen and community engagement is absolutely essential to achieve the change we all want to see in every First Nation — the hard work of re-building our Nations, our governments and protecting our lands, waters and territories."
Protesters, while appreciating the support of the elected chiefs, say they are not interested in turning over leadership of the movement to the First Nations leaders represented by the Assembly, and whose words and actions they believe are restricted under the terms of the Indian Act.
Over the last month, public rallies and flash mobs, as well as more disruptive blockades of railway lines and highways, have combined with the hunger strikes to draw attention in mainstream as well as social media.
Also on Thursday, an open letter signed by 21 groups including human rights advocates, environmental activists, religious organizations active in social justice issues and a range of aboriginal organizations expressed further support for the Idle No More protests, calling it "tragic" that a hunger strike and Canada-wide protests are "necessary to bring attention to violations of their dignity."
"Co-operative and harmonious relations cannot be achieved by devaluing treaties or by unilateral government actions," the letter reads, saying the protests "put the spotlight on federal policy and legislative agendas that are trampling the inherent rights of Indigenous peoples affirmed in domestic and international law."
For more northern stories, click here