Snow sculpting kings compete in North Finland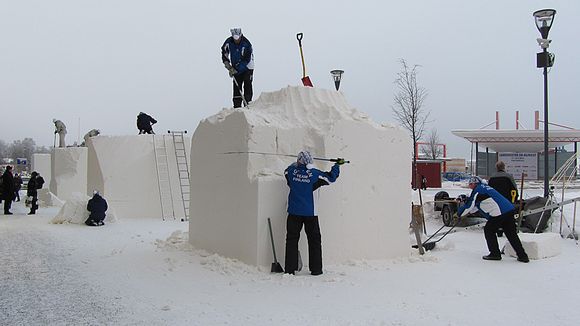 This weekend snow sculpting virtuosos will go shovel to chisel in the Finnish Snow Sculpting Championship, as 13 teams provide residents and visitors to the northern city of Kemi with a breathtaking display of glacial art.
The teams will compete in three areas – solo, art and action series, creating snow art under this year's gaming theme.
Competition director Seppo Lankinen said the arctic art contest got off to a solid start Friday. He noted that the challenge had attracted previous winners as well as students from the Kemi-Tornio technical college.
"Compared to last year's competition we have fifty percent more teams, and just two teams were forced to withdraw because of illness," Lankinen explained.
The snow artists broke out their tools midday Friday with the aim of completing their works of art at noon Sunday, for evaluation by the judges and the public. Winners of the different competitions as well as audience favourites will be made public at 1.00 pm on Sunday.
The competition director said that members of the audience stand to win a pair of tickets to Kemi's Snow Castle for participating in selecting the people's choice award, while the winning team will win a cruise on the ice breaker Sampo.
The Finnish Snow Sculpting Championship is owned by the Central Association for Recreational Sports and Outdoor Activities and takes place annually in a different city. Kemi Travels was responsible for organizing the event in Kemi this year.
Lankinen revealed that city authorities are also planning to host the Finnish Ice Sculpting Championship in Kemi – probably next year.
For more stories from Yle News, click here