Indigenous protest movement 'Idle No More' reaches Alaska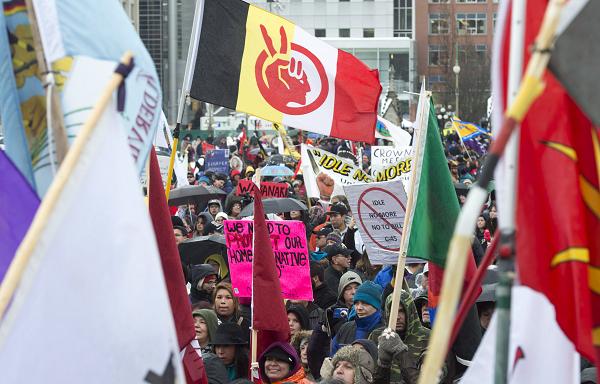 Last week "flash mobs" in solidarity with the Canadian-born indigenous rights movement, "Idle No More," began popping up in Alaska's capital city, Juneau. Now, the movement has made its way to the state's largest city, Anchorage.
KTUU reports that on Friday, local organizations in support of the "Idle No More" message gathered in downtown Anchorage to show support for Canada's First Nations.
"Idle No More" began in Canada in October as a way to draw attention to the alleged abuse of indigenous treaty rights by Canada's federal government under Prime Minister Stephen Harper, leader of the majority Conservative Party. Less than a month later support for the movement spread, reaching other areas in North America.
Alaska groups say they are standing in solidarity with Canadian First Nations because they believe that what happens in Canada has an effect in Alaska.
"Idle No More represents a movement to call attention to what's going on within legislations and laws on an international level on our lands," Meda Dewittsch Leifman, protest organizer, told KTUU. "These laws that are being put through affect how we can work within the system to protect our lands because they're more than just resources; this is our home."
Read more about the movement.
Related Links:
Analysis: The cultural importance of Idle No More, CBC News
AFN leader prepares for follow-up meeting with PM, CBC News
For more stories from Alaska Dispatch, click here