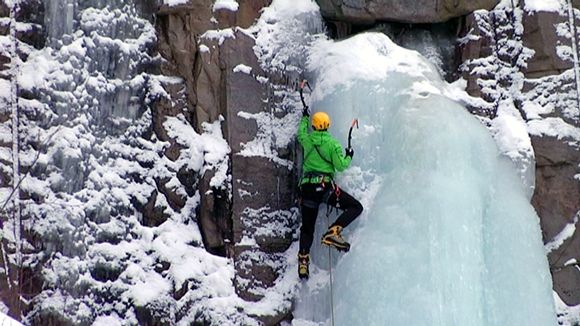 Finland's iciest season is not popular with everyone, but for some it's the perfect time of year for an outdoor adventure.
Present climbing conditions are apparently nothing special for this time of year, but there's still plenty of ice for enthusiasts to get stuck into.
This year climbers were able to start their hobby in December, but in better winters it's been possible to conquer sites such as Höstvesi, near Vaasa, as early as November.
Freezing temperatures and the need for specialised equipment are somewhat of a barrier to participation for many, however, even beginners can take a stab at the sport.
"I'd never really tried it before, but it was a really nice first experience," says Saana Jokiaho of Nurmola.
Seasoned ice climber Sami Järvimäki stresses the importance of having the right safety gear. He warns that shards of ice can fly off the wall or flurries of snow can obstruct a climber's vision. This means that not only is a variety of climbing equipment needed, but a helmet and safety glasses should always be worn.
In the more southern regions of Finland, such as around Vaasa, the ice-climbing season runs from November through to April. However, the best ice-climbing location in Finland is the dramatic Korouoma Canyon in the North, near Posio.
Those wishing to venture even further afield can take their pick of more exotic sites, including climbing spots amongst the fairytale peaks of Norway.
For more stories from Yle News, click here