Northern artists to take over Canadian capital for spring festival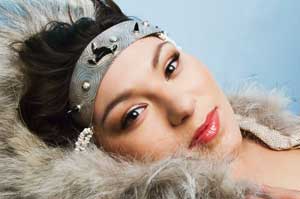 Inuit throat singer Tanya Tagaq performing live alongside a screening of the iconic Canadian film Nanook of the North is one of the high-profile performances of the Northern Scene cultural festival in Canada's capital city of Ottawa this spring.
Hosted by the National Arts Centre, the festival will draw 250 established and emerging artists from across Canada's northern regions including the northwestern Yukon territory, the central Northwest Territories, the predominatly Inuit region of Nunavik in the province of Quebec and the eastern Arctic territory of Nunavut, to the nation's capital to showcase their talents.
Tagaq's performance alongside the 1922 silent film casts a contemporary light on the film, considered a significant landmark in recording the lives of Inuit people. Her soundscape incorporates improvisation by Jesse Zubot and Jean Martin, as well as Derek Charke's original score.
Another high-profile event at Northern Scene will unite four female Aboriginal and Inuit artists for an evening of music: Leela Gilday, Sylvia Cloutier, Diyet and Nive Nielsen.
Altogether, artists from across Canada's North will take part in the 10-day event.
Participants from Yukon include:
Sobey Award-nominated visual artist Charles Stankievech.
Spoken word artist and author Ivan Coyote.
Singer-songwriter Sarah MacDougall.
Participants from Northwest Territories include:
Author Richard Van Camp whose play I Count Myself Among Them is being performed.
Fiddler Richard Lafferty.
Participants from Nunavut include:
Participants from Nunavik include:
Juno-nominated singer-songwriter Elisapie.
Poet/spoken word artist Taqralik Partridge.
Northern Scene will encompass visual arts, theatre, music, food and fashion. The festival takes over Ottawa from April 25 to May 4. The summer NAC festival has previously focused on artists from Atlantic Canada, Quebec, B.C., Alberta and the Prairies.
For more northern stories from CBC News, click here