No proof Canada's northwestern Yukon territory needed 2 new hospitals: auditor
Decision to build wasn't backed up with facts, no guarantee hospitals can find doctors and nurses they'll need, report says
The auditor general's office says the government in Canada's northwestern Yukon territory spent more than $70 million on constructing two new hospitals without asking if it was meeting the actual needs of Yukoners.
In a report presented Tuesday to the Yukon legislature, the auditor general of Canada says the Yukon government and Yukon Hospital Corporation went ahead with the construction of new hospitals in the communities of Dawson City, population 1300, and Watson Lake, population 800, without proper planning.
"I think it's quite clear that this was a political decision," said assistant auditor general Ronnie Campbell.
"Having said that, it's still the responsibility of the hospital corporation to find the best way of meeting those needs and so if there's a political decision to build the facility, all of that analysis should have still been undertaken."
The hospitals in Dawson City and Watson Lake are over budget and behind schedule. The auditor's report adds they will cost millions more each year in operational costs. It also states there's no guarantee the hospitals can find the doctors and nurses they need to work there.
NDP and official opposition leader Liz Hanson said communities' needs for other options such as chronic care and palliative care were ignored in favour of acute care. She said she fears Yukoners could be left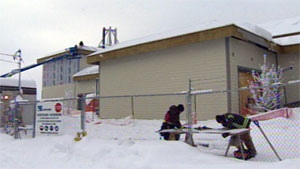 with two white elephants.
"We may be facing what other jurisdictions have faced, when you build these fancy new hospitals and then you have to shut them," she said.
Klondike MLA and interim Liberal leader Sandy Silver said he wonders if the government will do things differently when it moves ahead with a planned expansion of the Whitehorse hospital.
"We hope that we can use what we've learned today from the auditor general as a litmus test so that next time we do down this road there will be those assessments needed before we decide to go with these major builds," he said.
Silver wants officials from the hospital corporation to answer questions in the legislature about their future plans.
Campbell said the government did not necessarily make the wrong decision in building the new hospitals, but that the decision needed to be backed up with facts.
Related Link:
Auditor general's report: Capital Projects—Yukon Hospital Corporation
For more northern stories from CBC News, click here