High-tech Arctic gear on horizon for Alaska oil workers?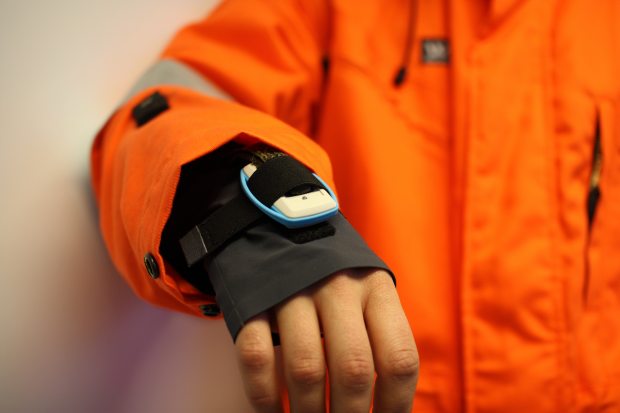 Workers on Alaska's North Slope may one day slip on a jacket that monitors their safety as they brave extreme Arctic conditions in the oil fields. Norwegian research organization SINTEF is developing a coat with built-in sensors that not only monitor the worker's external environment, but his or her health, too.
This jacket is part of SINTEF's ColdWear project, which aims to build the scientific foundation behind "new clothing solutions that enable a significant increase in performance and safety of operations in the High North." While SINTEF scientists are developing a whole line of clothing, so far this jacket is the only item with electronics integrated directly into the fabric.
The jacket's sensors measure the temperature, humidity and perspiration of a worker while recording the worker's exact location and the direction he or she is headed. Sensors also measure external temperatures and humidity. By having better information about how employees are faring, supervisors can make better decisions about when to quit work for the day.
Increasing oil and gas activity in the Arctic prompted the idea for the jacket, writes Hilde Færevik, research manager at SINTEF. "Workers will be exposed to more extreme weather conditions, and that may lead to fatigue, impaired physical and cognitive performance. The safety of the workers is significantly affected when outside temperature decreases."
Today's system of gauging safety is based on the wind-chill index, which is only useful for evaluating the risk of frostbite on bare skin and not for measuring the temperature of a worker's hands, which are highly susceptible to cooling, Færevik explains. Studies done by SINTEF found that when fingers hit temperatures of around 68 degrees, a worker's performance was compromised.
"In such situations, the average worker may be so determined to get the job done that his fingers become cold and lose their dexterity, with the result that screws are not fitted correctly, leading to increased risk level sometime in the future." Øystein Wiggen, a physiologist and research scientist at SINTEF Health Research, told Engineering and Technology Magazine.
So SINTEF looked to find a way to measure a person's temperature as close as possible to the hands while not getting in the way. In addition to this challenge, the researchers needed to design the sensor to read information from both air and skin, as well as stand up to extreme temperatures and harsh treatment. "Physiologists, experts in electronics and designers worked together to come up with the best possible solution," Færevik writes.
The result is the "IsenseU" sensor, a new type of module that can read the surface temperature of a person's skin without any physical contact. Additional sensors measuring humidity and external environment are nestled into the jacket's fibers, protected from the weather. All electronics are integrated, with SINTEF researchers creating a new way to mold sensors into textiles, allowing for the jacket to move freely and be washed, Engineering and Technology Magazine reports.
Information about the workers and environment can be sent to a cellphone, computer or via Bluetooth SMART, so supervisors can assess how their employees are faring in real-time, Færevik writes.
The jacket will require more research before it's ready to be put on the market, Færevik says. Here's a video demonstrating one of SINTEF's other ColdWear projects, a jacket for fishermen that can, among other things, heal itself when cut:
{youtube}b3I63-hZKsI{/youtube}
Contact Laurel Andrews at laurel(at)alaskadispatch.com
To read more stories from Alaska Dispatch, click here