Rural Alaska's free television in jeopardy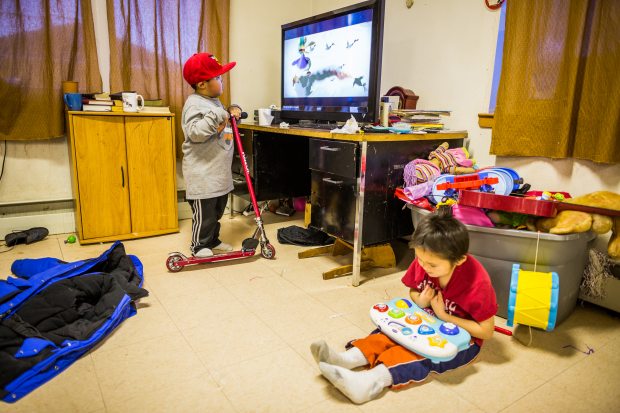 Since the early 1980s, a patchwork of broadcast transmitters across Alaska have captured a mish-mash satellite feed in order to deliver free, over-the-air television into the homes of the state's smallest communities.
Recognized as a crucial service that connects approximately 230 small or isolated communities to the blitz of information most urban residents take for granted – sitcoms, politics, local and national news, government, sports, weather, emergency announcements – Alaska invested in equipment to ensure rural citizens had a media window to the world.
This is the conduit that brought the 1980s drama "Dallas," about a wealthy oil tycoon, to the sets of remote Alaskans. It also gave them a view of Pope John Paul II's visit to Alaska, and made sure Alaska-generated news was part of the programming mix. Today, it's where people can watch the Iditarod, coverage of the Alaska Federation of Natives convention, an array of sporting events or local news, or indulge in entertainment like the sitcom "Modern Family," from any number of local stations, syndicated programming or national networks.
But without a $5.3-million-dollar investment by the Alaska Legislature, this free blend of public, commercial, emergency and educational programming is at risk of going dark. Low-power television stations across the nation are under a Federal Communications Commission mandate to upgrade from an analog signal to digital delivery by Sept. 1, 2015. "After that date, analog TV will no longer exist un the United States," the FCC states on its website, although it's not clear how the FCC will enforce the deadline.
The Legislature is deliberating how much money to sink into the 2014 capital budget. Digital conversion funding for the Alaska Rural Communication Service, or ARCS, is a line item requested by the governor. Broadcasters and the Alaska Federation of Natives have lobbied in favor of keeping the system alive, arguing it's a crucial lifeline for communities that would otherwise have few, if any, alternatives. As of Wednesday, the ARCS funding had made it into the draft budget under consideration by the Senate Finance Committee, which prided itself on crafting a $1.8 billion capital budget that's nearly $1 billion lower than last year's. Fiscal prudence is a driving factor for the Republican-led Legislature, as its session nears its end.
On the chopping block
"We've been on the budget chopping block many times," said Linda Davidovic, one of 18 ARCS council members who meet annually to decide which programs to beam out to the Bush in the consolidated feed. "If they took it off, what would the people in the villages be watching? Some of them would not have any television at all."
Davidovic has been a council member since 1984, back in the early days of ARCS, when it was known as the Rural Alaska Television Network, or RATNET. The state owns the equipment and helps pay for the satellite time to get the signals out, but it's up to the 230-some communities that benefit from the system to house and maintain the equipment.
From Adak to Alakanuk, Port Graham to Point Hope, Beaver to Barrow, the programming reaches approximately 110,000 people in rural communities across Alaska.
Davidovic represents viewers from 11 villages in the Kotzebue region, and says sometimes the council doesn't always agree on what programs should make the cut, but one news source seems to be a favorite. "People really enjoy watching Channel 2 News," she said.
That doesn't always sit well with news competitors, Davidovic said, recalling one year when a competitor – Channel 13 – was so angry about its newscast not being on the schedule that it retaliated by refusing to place that year's Super Bowl game on the feed. "We never heard the end of it from people in the villages," she said.
More urgently, Davidovic worries about how people in some of the state's most remote communities will stay connected, especially to emergency notices about disasters or weather conditions, if the plug was pulled on ARCS. She's not alone.
"It basically affects the entire state of Alaska instantly if this thing goes off the air," said Matt Wilson, president of the Alaska Broadcasters Association, explaining that not all communities have television or radio links that would be sufficient substitutes for managing emergency broadcasts and other critical announcements.
Options?
If ARCS disappeared without some other type of subsidized service, families in the state's most economically depressed communities would be forced to add another bill – paying a cable or satellite Internet service provider, if there was one in the community. Many of these same residents already face exorbitant home heating bills. Communities without Internet access don't have the bandwidth to stream video efficiently, and likely won't for several years. And many remain disconnected from broadband.
Even the large broadband being built in rural Alaska by GCI can't do what ARCS does. Where ARCS reaches some 230 communities, GCI's cable system hits approximately 30 communities, and the Internet/voice network it's building will serve about 70 communities, according to GCI spokesman David Morris.
"We cannot extend our signal across the state. We can't replicate what ARCS is doing," he said.
The prospect of ARCS dying has wrankled such broadcasters as KTUU, the NBC affiliate in Anchorage. It fears ARCS' prospective demise could provide an unfair boost for GCI, the state's largest cable provider, which also plans to enter the news-production business with stations in Anchorage, Sitka and Juneau. Without ARCS, opponents of GCI's expansion worry that the company could choke off competition by using its reach — in cable and as the emerging broadband architect for rural Alaska — to its competitive advantage.
GCI has not contemplated stepping in to fill an ARCS role, should ARCS disappear, Morris said.
The price is right
For now, preserving the free broadcasts are in many ways a labor of love. Last winter, Haines resident Leigh Horner told the Chilkat Valley News she was happy to try to keep the broadcasts going by paying in "shovel time." Answering a call for help from KHNS, which hosts the satellite and other equipment necessary to get the ARCS signal out to residents, Horner volunteered to help clear seven feet of snow from an equipment storage shed and the satellite dish. Although the system is subsidized, the burden of maintaining it falls to individual communities, which often have to raise their own money, labor and parts to keep things going. In the article, KHNS station manager Kay Clements likened the ARCS equipment to an "abandoned orphan."
Still, Horner, who told the Chilkat Valley News she doesn't have cable, explained why ARCS is worth caring for: "It's not always a great picture, it's low frequency, so you get what you pay for. But the price is right."
Contact Jill Burke at jill(at)alaskadispatch.com
For more stories from Alaska Dispatch, click here