Finland's Santa replies to holiday mail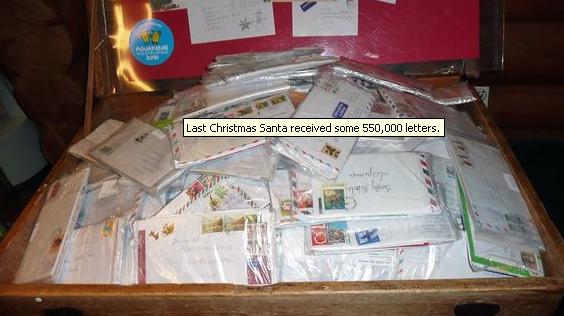 More than 40,000 letters will leave Santa's main post office at Finland's Arctic this week. Last Christmas, the Italians dethroned the British as the nation with the highest number of letters for the seasonal purveyor of goodwill.
In 2013, Santa's Christmas response letters will be dispatched in 12 different languages: English, Finnish, Swedish, Polish, Italian, Japanese, French, German Spanish, Portuguese, Korean and Chinese.
Last year Santa received over half a million letters from all over the world. All of the missives were opened and read at Santa's main post office at the North Pole. Santa's erstwhile helpers, the elves, have been working hard to respond to all of correspondents with correct return addresses.
The Italians leapfrogged past the British to send the greatest number of letters to Father Christmas in 2012 – more than 100,000. Before that, the British reigned supreme as the white bearded one's number one senders of fan mail. This year, they sent just 100,000.
Otherwise, Santa's most active correspondents came from Poland (55,000), China (50,000, three-quarters from Taiwan), Finland (26,000), Russian-speaking countries (21,000) and Japan (20,000).
Even Santa is not above resorting to marketing ploys. A major intention of the replies is to tempt the letter writers' families to visit the North Pole.
Father Christmas shares news of his elves' snow and ice buildings, different kinds of winter sports and the seasonal changes that Lapland sees through the year. This year, he'll also tell his readers about the breathtaking Northern Lights displays that can be seen from one of the best vantage points in the world – Lapland.
As a token of Santa's perennial goodwill, each child receives materials and instructions for a family game-Christmas decoration.