Ice buildup threatens Finnish town with flooding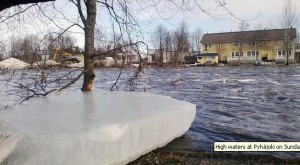 Residents of the central area of the Finnish town of Pyhäjoki in North Ostrobothnia were urged to evacuate on Sunday afternoon as strong currents began shifting masses of ice blocking the local river.
Emergency services officials said that waters were on the rise again in the same area swept by a flash flood on Saturday.
"An ice damn about 500 metres long upstream has started to move. It is still uncertain if it will move as far as into the town centre," said Rescue Services Director Jarmo Haapanen just before 3:30 PM on Sunday.
Residents were urged to leave the area threatened by flooding. These are mainly the same people who had to leave their homes when waters suddenly rose on Saturday.