Reindeer husbandry falters in Finland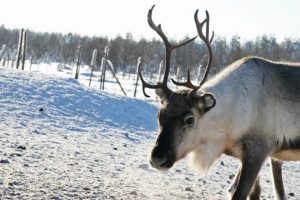 Declining sales, losses to predators and growing production costs are making the business of raising reindeer increasingly unprofitable in Finland.
The production year for reindeer herders is calculated from June 1st. According to a forecast by MTT Agrifood Research Finland,  final figures for reindeer husbandry the current year will show average income in the sector slashed by more than half.
The average income for a reindeer herding enterprise in the 2012/2013 production year is expected to be a mere 2,870 euros, down from the 6 500 euros seen in 2011/2012, which in turn had declined by 20% from the previous year.
Calculations show that a family operating a reindeer production operation can expect to see an average hourly income of 4.30 euros for the some 1,300 hours of work invested in the business, and no more than a 1.5% return on an average capital investment of 59,000 euros.
Reindeer husbandry is most profitable in the Far North, in areas occupied by the indigenous Sami people.