Inuit art market slow to recover, say Canadian wholesalers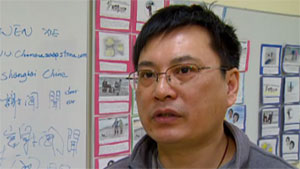 Inuit art sales have been slow to rebound following the collapse of financial markets in 2008, say major wholesale buyers.
They're taking steps to help Nunavut artists adapt to a changing marketplace.
Debbie Jones, vice-president of art marketing for Arctic Co-operatives Ltd., said the buyers that remain are an elite group looking for high quality pieces.
"I believe that the collector is looking for something that is more outstanding than perhaps is in their current collection," she said.
Wen Xie, a jade carver originally from China, works for the Northwest Company in Toronto repairing Inuit carvings that are broken in transit.
He recently spent a month in Cape Dorset, sponsored by the Nunavut Arts and Crafts Association, to show carvers some of the skills in demand in the new market for Inuit art.
"Show the fine finish, a little bit more detail," he said.
Tom Chapman, general manager of sales for the Nunavut Development Corporation, also said art buyers are looking for high quality.
"Not so much price, but just quality in general," he said. "The world has become very educated about Inuit art."
Chapman said he's working hard to get that message out to Inuit artists so they know what kinds of pieces will find a buyer in a difficult market.