50 caribou found wasted in Canada's Northwest Territories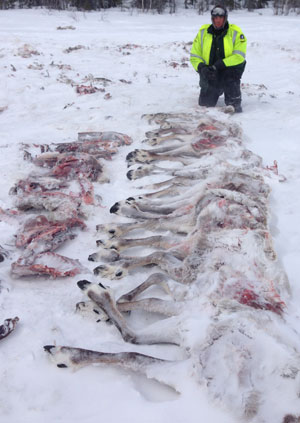 Parts of more than 50 caribou were found wasted near the community of Gameti in Canada's Northwest Territories (N.W.T.) at Hottah Lake.
The territory's Department of Environment and Natural Resources said the animals were found between April 23 and 27, and it's likely the animals were hunted earlier in April.
Officers found meat suitable for food was left behind, including legs above the knee, rump, ribs and backstraps.
The lake where the animals were found is about 90 kilometres northwest of Gameti. ENR says it is a popular caribou hunting area.
The department is asking the public for help in identifying the people responsible for what totals to 12 instances of meat wastage.
In the N.W.T., the only parts of big game such as caribou which can be left in the field are the head, lower legs, internal organs and meat damaged from gunshot. It is hunters' responsibility to ensure no meat is wasted.
Anyone with information is asked to contact the department's North Slave office, at 867-873-7181, or the Report A Poacher toll-free line at 1-866-762-2437.