Swedish banks 'part of climate problem': report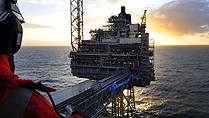 A report by the former chief economist of the World Bank warns that pension funds are threatening the climate, and their own survival, by investing in oil, coal and gas. And the head of sustainable development at Swedish bank Nordea agrees that most investments in Sweden are made without any reference to the effect on the climate.
Last year global investments in renewable energy shrunk for the first time, by 11 percent. And pension funds are now investing in new sources of oil, in tar sands and under the melting Arctic ice. But this is an economic risk for the funds, since, according to climate science, these new fossil fuels should never be used.
Major bank HSBC says that the big energy companies need to shrink by 40 to 60 percent if we want to take the threat to the climate seriously.
Sustainable development head Sasja Beslik is the former head of Nordea, and says that the new report shows that there is a series of risks that the financial system does not take account of.