Clean-up work to begin on mine in Canada's Northwest Territories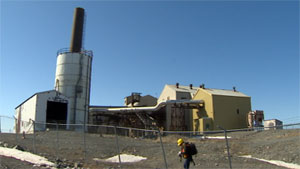 Crews will begin removing asbestos and arsenic trioxide found in the roaster complex at the Giant Mine in this summer, located in Yellowknife, the capital city of Canada's Northwest Territories.
The work is being fast-tracked because officials say the buildings are collapsing.
The roaster complex consists of nine structures, which includes a towering brick smokestack, as well as the pipes that carried arsenic trioxide underground.
The inside of those flues are coated in the toxic material, produced when ore was roasted to extract gold at Giant Mine.
"It was passing through as a hot gas," said Adrian Paradis, regulatory manager for the site. "Over the years it just piled up and formed a hard, caked, baked-on layer."
Crews will spend the summer removing that layer, as well as the asbestos and arsenic dust that built up inside the buildings.
Paradis said there are 40 tonnes of arsenic trioxide in the flues, and thousands of cubic metres of contaminated material in the buildings.
Crews will have to wear protective suits when they move the toxic material to a temporary warehouse. It's deadly in small doses.
But Jane Amphlett, operations manager for the site, said she is confident crews can keep it from escaping into the environment.
"It'll be bagged, double bagged, stored in a secure structure to keep it dry and out of any kind of weather."
Eventually, the material will be stored permanently underground.
Representatives from the clean-up team were on hand at a meeting in Ndilo Wednesday night to explain the process, but residents were more concerned about what the contamination will do to the water in the area.
Roy Erasmus, acting chief of Ndilo, said he doesn't believe the water pumped from the mine will be properly tested before it goes into Great Slave Lake.
"So I told them I wanted to see a picture of their minister drinking a glass of that water before it goes into Great Slave Lake," he said.
The federal government said it has taken proper precautions to make sure the water will be safe and will not harm the environment.
There will be a public meeting on the roaster demolition Thursday night in Yellowknife.
There will be also be more air quality testing done this summer at Giant Mine, according to officials with the Department of Aboriginal Affairs and Northern Development.
Amphlett said the contractor, Parsons Canada, will be in charge of tests across the site.
"We're going to move them based on wind conditions," she said. "We want to get upwind and downwind samples. They would be mobile; we would come in every day and look at the prevailing wind and then take our samples based on the right location."
Amphlett said the air samples will be sent to labs in southern Canada to test for arsenic.