Novel 'oblique icebreaker' will clear wider path for Arctic industry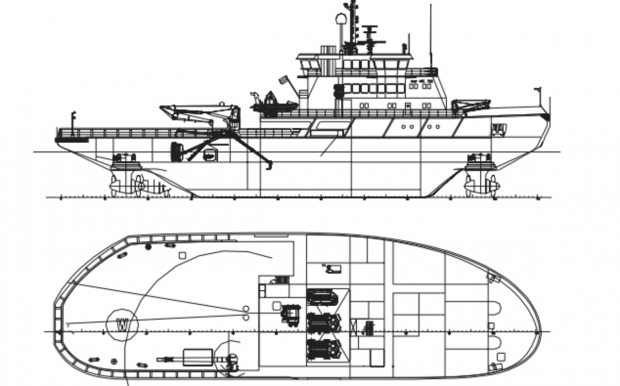 Even as the White House took a step forward on Arctic policy by signing its National Strategy for the Arctic Region on Friday, the U.S. lags behind other Arctic nations in taking advantage of its northernmost borders. Icebreaking capability is one area where the U.S. is lacking, and a new icebreaker commissioned by the Russian government and expected for delivery early next year may put America even further behind the curve.
If it works as expected, the "oblique icebreaker" being developed by the Russian Ministry of Transport and Finnish engineering firm Aker Arctic could be a game changer as commercial ship traffic and resource development ramps up in an increasingly ice-free polar region. In addition to moving ahead and astern, the new vessel will also be able to turn itself sideways — obliquely — allowing its much-longer broadside to clear a wider path for following vessels or spill cleanup efforts in certain types of ice.
The asymmetric design of the ship and rotating thrusters beneath the vessel will allow for its unique movement. And at a length of about 250 feet, the icebreaker can clear a wide swath. For comparison, the U.S.-operated icebreaker Polar Star is only a little more than 83 feet across at its widest point. The vessel has been under construction for about a year in both the Yantar Shipyard in Kaliningrad, Russia and the Arctech Shipyard in Helsinki, Finland.
"There is a demand for innovative icebreaking vessels in the Russian market," Arctech Shipyard Managing Director Esto Mustamaki said in 2012. "The (new) vessel represents a totally new technology, which enables its versatile use in the Gulf of Finland."
Aker Arctic has already announced designs for a longer, more powerful "heavy-duty" version of its oblique icebreaker, according to numerous maritime industry sites.
The need for an icebreaker capable of clearing a wider path than traditional vessels of the same type stems in part from increasing offshore oil development in Arctic seas, another area where other Arctic nations have outpaced the U.S.
Meanwhile, America's government-sponsored icebreaker program seems perpetually stuck in the planning and studying phase. Congress recently allocated about $7.6 million to the Coast Guard for "acquisition planning" for a new icebreaking vessel. Currently, the Coast Guard has three major icebreakers, and only two of those are classified as "heavy" icebreakers — the Polar Star and the Polar Sea. The Polar Star was only recently reactivated after a multimillion-dollar revamp at a Washington shipyard, and the Polar Sea remains out of service.
In a report to Congress in late April, naval affairs researcher Ronald O'Rourke documented the many challenges facing the U.S. icebreaker program, including a 2011 Department of Homeland Security report that noted the current icebreakers are "unlikely to meet future demands" of Arctic operations.
That same report points out that the U.S. has fewer total icebreakers than Russia, Sweden, Finland and Canada. Russia has a total of 34 publicly and privately-owned icebreakers, including five operational nuclear-powered icebreakers.
And with the oblique icebreaker soon on its way to Russian waters, the country may have an additional, unique tool in its Arctic toolbox. In the competition for Arctic supremacy, there's probably a pun to made about the new "cold war" taking place at the top of the world. But the war may already be over. Still, maybe the hesitance of the U.S. to throw resources at icebreaker construction could prove to be a wise one, as sea ice cover in the world's northern region continues to decline.
Contact Ben Anderson at ben(at)alaskadispatch.com