Mental health centre opens in Iqaluit, Nunavut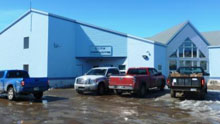 People who need mental health treatment now have a new place to go in Iqaluit, the capital city of Canada's eastern Arctic territory of Nunavut.
The Government of Nunavut opened the Akausisarvik Mental Health Treatment Centre on Friday.
"This is a great facility. It's our commitment as a government to improve mental health facilities and services in Nunavut," said Keith Peterson, the territory's Minister of Health.
The facility is open 24 hours a day, seven days a week. It has room for 15 in-patients, eight of whom have already moved in.
Staff will also provide service for up to 40 out-patients. When fully staffed, the centre will have 18 employees.
Jackie Sheffield, the manager at the centre, said the new building is going to help her and staff deliver better programming.
"This means an enormous difference for individuals with a serious mental illness."
It cost $2.4 million to convert the centre from a medical boarding home. The annual operating budget for the centre for is $2.3 million.