Land, water rights big issues in Sweden's Sami elections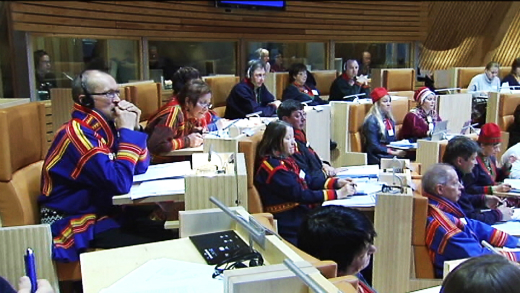 Sweden's indigenous Sami group goes to the polls for the Sami Parliament elections this Sunday.
The body, which represents all people of Sami heritage in Sweden, has never before had so many people registered to vote.
The Sami Parliament has elections every four years. But it is also a government agency within the Ministry for Rural Affairs, which among other things, compensates reindeer farmers when their herds are killed by predators and hands out grants to support Sami culture.
Nine parties are vying for seats in the Sami Parliament in this Sunday's election. It is difficult to classify or call any of the parties left or right or center in the traditional sense.
Rather the parties differ from each other based on their stances on specific issues that are important to the Sami people.
One big issue revolves around the rights Sami reindeer herders should have compared to what rights non-Sami reindeer herders should have.
Lovisa Maria Josbrant, a first time voter, is enthusiastic about doing her duty. "I mostly know about what one party or another feels about reindeer herding and what their stances are on how to protect nature, these are the issues I'm engaged in," she tells Swedish Radio news.
This election, over 8,000 people have registered to vote. That is quite a big jump since the first Sami Parliament election in 1993, when just over 5,000 people were registered.
Peter Sköld, a professor in Sami history at Umeå University, says there are several reasons for the increase. He says: "Partly more Sami have been born and turned 18 in 2013. But the Sami Parliament has also been around for twenty years so people trust it more politically. Also, more Samis have learned to speak Sami."
In addition, Sköld says more parties are trying to get people onto the voter rolls.
But despite the increase in the number of registered voters, no one knows exactly how big the potential vote can be because it is impossible to say how many people are able to speak Sami, which is a requirement to be allowed to vote.
Another unknown, is how many Samis there are in the country. The number often floated about is 20,000, but that figure dates back to a government report from the 70s. Some researchers think it could be double that size.
Professor Peter Sköld says updated and more relevant statistics would strengthen the Samis as a group. He says it is obvious that you can be a more powerful political force if you have 100,000 people, rather than 20,000.