Alaskan recalls recent flooding horror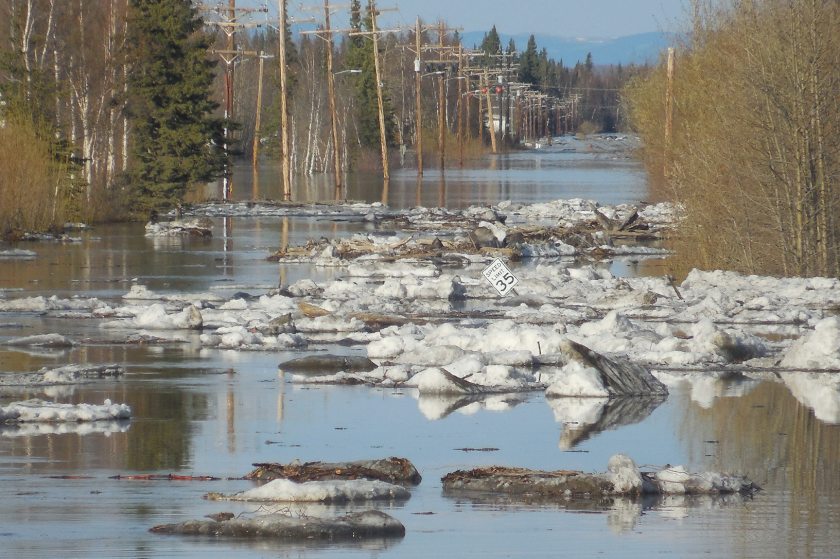 Twenty-four years on the Yukon River brings with it some understanding of and relation to the water. But with the snap of one culvert and a change of course, all that Pat Erickson and others in Galena, Alaska, thought they knew was washed away.
Erickson had lived in Galena since 1988 until the river started to spill over its banks and snake toward her home last Monday. She figured that she had days to prepare for a flood; hours later, her home would be swallowed by the Yukon's frigid flow and her community almost wiped off the map.
But in those first moments, on a beautiful summer day, "people didn't grasp the seriousness of it," she said.
During her years in Galena, the Yukon had never crested its banks before, she said. "We were thinking in terms of when the water was going to break, since that's what happens every year.
"We weren't thinking in terms of a flood," she said.
So there was no sense of urgency when she and her husband went to examine an overflowing culvert, about two blocks from their home. It was just something to do, she said. People were chuckling at the sight of the water dumping through the culvert and streaming over the road, unaware that danger was approaching fast.
At worst, Erickson figured the water would probably reach their house and fill up the ditch in front of their yard. They returned home, and she figured she'd move some belongings off the floor and gather some things together. She started filling plastic bins with her husband's clothing, her knitting. She thought "we had days" to prepare in the event of evacuations.
Looking back, she sees odd decisions. Proof, she said, that they really were "not thinking."
Gone in three minutes
Her mild-mannered husband yelling for her to come, now, may have been the first jolt.
"I looked out the window and my whole front yard was underwater. Everything," in three minutes, she said.
Three minutes between packing and water pouring into the yard. Three minutes and no time left.
Photographs, important papers, prized possessions. Gone.
In the grip of panic, Erickson grabbed the bins, the two cats and her husband — no wallet, no ID, no clothes for herself — and got into their truck. The water had already raised several feet and was nearly touching their cab door. They drove to the public school, a building raised off the ground on pilings, at that point was still on dry ground.
Their home and all of their belongings would be swallowed by the rising waters hours later. The trailer they lived in wasn't eligible for home insurance, she said. They lost everything.
Panic as raging flood turns schoolhouse into an island
They arrived safely at the school soon after. Even then, Erickson didn't fully understand the gravity of the situation. She sat in a back classroom, reading a book, as the waters continued to rise. But as more and more people filed in, food was dropped off, and people began to rearrange furniture to accommodate supplies, that's when the mood "started to change pretty quickly," she said.
Soon, the school was an island in the midst of the raging flood, and residents were being shuttled by riverboat to the airport. Erickson loaded into the boat with her pets, husband and a few other folks. She and her husband were on opposite ends of the boat, and she had a dreadful realization that they would have no way to reach each other if it tipped.
But the boat didn't tip. They made it safely to the airport, where the couple scribbled their names on the evacuation list, and waited for a flight out of town.
"When something bad happens to you, you usually see it in bizarre ways," Erickson said.
As the disaster unfolded, Erickson was left with "snapshots" of the scenes around her, images that exist like photos in her mind:
Telephone poles falling like dominos, metal guard rails snapping and trees breaking as the surge of water and ice ripped through town.
The school superintendent whose house was already completely submerged in the water, his face crossed with lines of worry. "He looked so tired," she said, but was still working to help others through the ordeal.
A healthy young man, turned into a "lemming" in his state of shock, completely confused without any sense of what to do, or where to go.
A Native elder sitting in silence, noble and patient as panic swirled around him, a center of calm amongst the storm.
A man with a broken foot tearing off the bulky boot so he could help his father save their belongings, wading through muddy water fouled by diesel fumes and sewage, with a smile on his face.
A 15-year-old-girl being sent to Fairbanks by herself, taking the last spot on one of the evacuation planes on Monday night, as her family stayed behind.
A 25-year-old mother and her young daughter falling asleep in each other's arms on the evacuation flight to Fairbanks, the daughter's boots fallen off, showing mismatched socks underneath.
Erickson held back tears when describing the scenes of chaos and destruction that hit her community out of the blue. "Nobody could have predicted that," she said. The massive pieces of ice that smashed through town were larger than any she had seen in decades.
Erickson was able to evacuate the next morning at 4:30 a.m. It was the first time her daughter, Anchorage resident Stephanie Nollner, received a phone call that her parents were safe, and the first time she was able to sleep since hearing news of the disaster the day before. Nollner called that first day of waiting "torture."
Erickson is now staying with her daughter, along with four other family members evacuated from Galena, for the indefinite future. She's lucky – with a place to stay and a little money to get through the months ahead, she's in a better position than some folks who are staying in shelters and have nothing besides the clothes on their backs.
Nollner is working in overdrive to mobilize volunteers and organize a donation drive to assist evacuees during the long months ahead. She is asking folks to send donations to the American Red Cross or the Tanana Chiefs Conference. Nollner is also hosting a fundraiser this week, details of which can be found on the Yukon River Rescue Anchorage Facebook page.
Contact Laurel Andrews at laurel(at)alaskadispatch.com
Related Links:
Floods recede in waterlogged Alaska community, Alaska Dispatch
Elders removed from Alaska town after 'major flooding', Alaska Dispatch