Canada's N.W.T. planning fibre optic link up Mackenzie Valley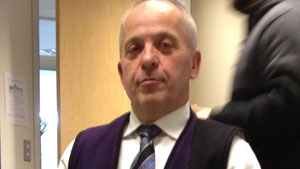 The government in Canada's Northwest Territories plans to start construction on the fiber optic link up the Mackenzie Valley next winter.
Finance Minister Michael Miltenberger says it will make the community of Inuvik a hot spot for Arctic research, and also help to better connect northerners.
"The limitations of our current communications infrastructure are preventing our government from providing better programs and services to our residents, particularly in the areas of health and education," he said.
The goal is to finish the link by 2016. The N.W.T. government committed to $7 million for the link in the 2013-2014 budget.
The territory is also studying satellite antennas — Miltenberger was part of a delegation of nine people which travelled to Europe to study satellite stations in Sweden and Germany.
There are now two satellite antennas in Inuvik. One belongs to the German Space Agency and the other to the Swedish Space Corporation.
The federal government plans to start building its own this summer.
Miltenberger hopes there will be 10 antennas by 2020.