Vessel charged for fishing in Greenland waters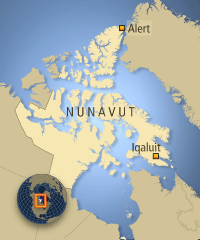 Two Nunavut fishing vessels face charges under the federal Fisheries Act.
The "Suvak" and its captain George Hudson have been charged for fishing in Greenland waters, said to have occurred on Oct. 10 and 20.
The vessel is owned by the Masiliit Corporation based in Qikiqtarjuaq, which is part of the Arctic Fishery Alliance.
The other vessel charged is the "Sikuvut". It's owned by the Oujukoaq Fisheries Limited, which is part of the Baffin Fisheries Colaition based in Iqaluit. On Oct. 19 and 20, the vessel was offshore of Baffin Island in the narwhal overwintering area and the cold water coral zone, where fishing is prohibited.
Captain David Dempsey was at the helm.
Workers on board are said to have been fishing for Greenland halibut when they were not supposed to.
In court Monday, it was noted that it will be difficult for the ships' captains to appear in court while fishing season is underway, and they are at sea. The season began last month, and continues to November.
Representatives for both companies will next appear in court on Dec. 2.