Air Greenland's Iqaluit service off to rocky start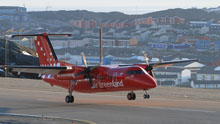 Summer flights between Nunavut and Greenland have resumed for the second year in a row.
The first flight from Nuuk arrived in Iqaluit on Monday but heavy snow almost cancelled the flight.
It arrived an hour late.
Air Greenland's First Officer Dennis Brodka says the weather office in Greenland said the weather didn't look good.
"But then there was an improvement in the weather and we checked up again and it was better, so we decided to go. It was the first flight so we really wanted to make it," he said.
The first flight was originally scheduled for Friday, but was cancelled due to low demand.
Monday's flight had 15 passengers on board, but there were no passengers on the return flight from Iqaluit.
William Cronin, the flight's captain, says they are looking forward to fuller flights as the season goes on.
"We're looking for a good payload back and forth and good weather, really. It usually should improve now."
Air Greenland and First Air have teamed up to offer the service. Air Greenland says most of the route's users are business travellers.
Brodka says he hopes the international flights become year-round to connect people in the North.