Devolution vote today in Canada's NWT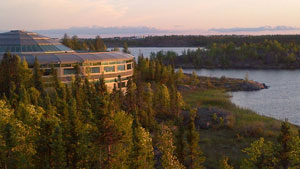 The legislative assembly in Canada's Northwest Territories (N.W.T.) is voting today on whether to approve the territory's devolution deal, which is the last hurdle before the territory is ready to sign the final agreement.
The devolution deal will give the territory control over its Crown lands and resources.
A motion to back the deal, which was announced in March, is expected to pass without much opposition, even though just two years ago, several MLAs often spoke against the proposed agreement.
This week, Premier Bob McLeod presented a report on the 46 meetings held about devolution throughout the territory since March. It includes summaries of what questions people asked, and shows how the government answered them.
Bob Bromley, who represents Weledeh, said he wishes the public had been more vocal about their views on what's in the agreement.
"Fundamentally, we all want devolution. And for many, that appears to be enough if we can get devolution in whatever form let's grab it, let's not criticize, let's not have critical thinking on this," he said.
No date has been set for when the territory will sign the final deal.
It's expected the federal cabinet will have to approve the deal before the agreement can be signed.
Related Stories:
PM announces final transfer of power deal for N.W.T., CBC News
5 things to know about devolution in the N.W.T., CBC News
Timeline | N.W.T. Devolution, CBC News