Finland inaugurates radio telescope in Arctic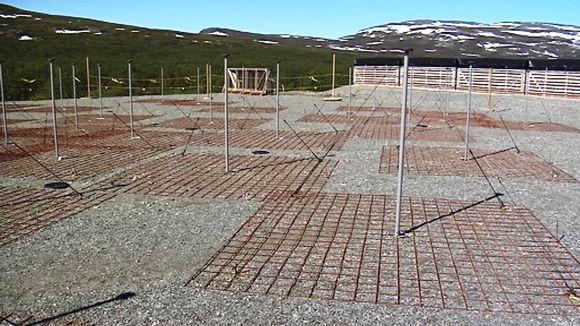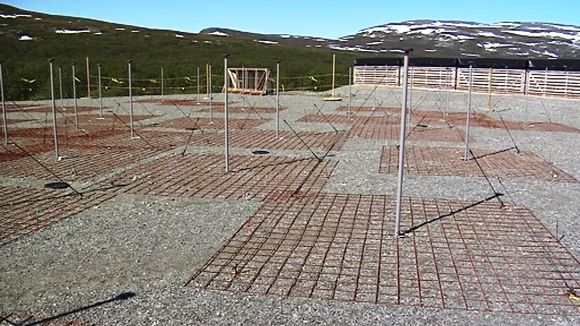 The largest radio telescope in Finland was formally inaugurated this past week at Kilpisjärvi in Finnish Lapland. Known as KAIRA (Kilpisjärvi Imaging Radio Receiver Array), it is a new generation radio observatory. Research targets include various layers of the Earth's atmosphere and space from near-Earth to deep space.
Instead of traditional metal parabolic antennas, KAIRA uses a combination of aerials and flat-panel antennas together with sophisticated digital signal processing technology.
KAIRA has more than 1500 individual antennas. By using electronic steering, it is possible for the instrument to change the direction it is "looking" within a tiny fraction of a second. Additionally, the digital signal processing allows it to look in multiple directions at once. In fact, it is possible to view the entire sky instantaneously.
KAIRA has been constructed by Sodankylä Geophysical Observatory, which is part of the University of Oulu.
An important goal of research carried out with the array will be the effect of solar activity on atmosphere. For example, KAIRA can be used to study the chemical changes in the atmosphere caused by the electrically charged high energy particles, which precipitate into the atmosphere from space during Aurora Borealis, the Northern Lights.
Research of Earth's atmosphere and near-Earth space has been conducted at the Sodankylä Geophysical Observatory (SGO) since the beginning of the 20th century. Finland maintains a leading position in certain areas of radio science. Scientists at SGO have, for example, developed revolutionary new methods for measuring near-Earth space using high power radar.