Is Alaska proposal for oil exploration in wildlife refuge legal?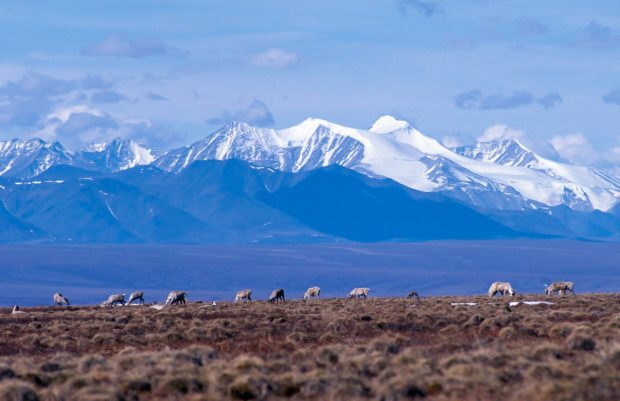 A pair of East Coast congressmen hoping to slam shut the debate over opening the Arctic National Wildlife Refuge to oil development say a proposal by Alaska Gov. Sean Parnell's administration to encourage limited exploration under a government-led program is off the table.
Rep. Edward Markey, a Massachusetts Democrat, and his colleague, Pennsylvania Republican Mike Fitzpatrick, point to a 2001 opinion by the Interior Department solicitor that claims no further exploration can be allowed in ANWR except by Congress, according to a news release from Markey's office.
If correct, that may explain why Parnell has taken the carrot approach — offering the U.S. Interior Department $50 million to help pay for the first seismic tests in the refuge in three decades — instead of beating the feds over the head with a lawsuit, as he's done in the past over resource issues.
The opinion is not correct, and it's just that — an opinion, said Dan Sullivan, the state's Natural Resources commissioner who previously served as Alaska's attorney general.
'Opinion … is highly suspect'
"An opinion does not carry the force of law, and as a former attorney general, I know a little bit about this," Sullivan said. "As a state, we're more focused on the law and what the law actually says," not what a solicitor general issued in the final days of a Clinton administration that feared ANWR development would be permitted under the incoming Bush administration.
"I can think of more than one reason why this opinion is highly suspect," he added.
Sullivan also blasted Markey, whose press release said he and Fitzpatrick had sent a letter to Interior Secretary Sally Jewell on Friday encouraging her to recommend a wilderness designation for the coastal plain. The plain is the swath of ANWR that Congress set aside more than three decades ago as a possible site of oil and gas production, pending Congressional approval.
"The last time I checked, Rep. Markey doesn't represent Alaska," Sullivan said.
Markey, ranking Democratic on the House Natural Resources Committee, also said he and Fitzpatrick had sponsored a bill in the House to permanently close the coastal plain by designating it wilderness. Part of their goal is protecting Gwich'in Natives, who hunt caribou in the refuge for food, the release said.
The Alaska Gwich'in live outside the refuge, to the south. Meanwhile, Alaska Native leaders from the only local governments within the refuge, the North Slope Borough and the village of Kaktovik, have said they support opening the coastal plain. They believe oil development would create economic opportunities and is less environmentally risky than offshore oil drilling.
Little drilling impact?
"It is rich in irony that Rep. Markey says he's defending Alaska Native people when prominent North Slope leaders of Alaska have testified how they and the villages want ANWR open," Sullivan said.
Markey's office did not return a call after business hours on Friday seeking a response.
Markey — who also has attacked the controversial 8(a) program in Alaska and wants to stop Arctic Ocean drilling — called the coastal plain the "biological heart of the refuge." Drilling supporters, such as the hard-working duo at Arctic Power, argue that the plain would be minimally impacted because drilling technology has improved, requiring a relatively small development footprint.
While oil production and leasing can't happen without Congressional approval, it's uncertain whether such permission would be required before the Interior Department could partner with the state, as pitched in Parnell's 104-page proposal calling for seismic studies followed by exploratory drilling.
In 2010, Sullivan pointed out that the 1980 law that expanded the refuge calls for a "continuing inventory" of fish and wildlife resources and how oil and gas development affects those resources. Using the latest technology to discern how and where the oil could safely and technically be extracted is key to understanding how development would affect wildlife.
In kicking off the proposal recently, Parnell said an update — using new technology such as 3-D seismic to determine how much oil lies within ANWR — could help inform the debate over whether the coastal plain should be opened.
Sunset provision?
The 2001 opinion, issued after Markey asked then Interior Secretary Bruce Babbitt what activity could legally be permitted in the refuge, determined that Congress permitted "time-limited" exploratory activities that ended in 1987 when the Interior Department issued a report to Congress on the oil and gas potential in ANWR.
Not so, said Sullivan. The law says nothing about prohibiting future updates to ANWR's oil and gas inventory.
The section calling for exploration in ANWR "does not appear to me — and maybe I'm missing something, but I read it carefully — it does not appear to have any kind of sunset provision in it," Sullivan said.
So if the state's legal argument is so sound, why isn't it suing? It apparently prefers to offer the carrot, at least for now.
"We feel like we're offering a very reasonable and modest proposal that we're working hard to get support on," Sullivan said.
Contact Alex DeMarban at alex(at)alaskadispatch.com